Communication Associate: Public Relations
| Lori Melton |
lmelton@d.umn.edu
| (218) 726-8830
---
December 13, 2010
Susan Beasy Latto, Director, Media and Public Relations 218 726-8830 slatto@d.umn.edu
Tricia Bunten, Chief Development Officer 218 726-6995 tbunten@d.umn.edu
William Wade, Vice Chancellor 218 726-8831 wwade@d.umn.edu
UMD Names Chief Development Officer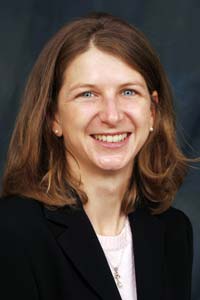 Tricia Bunten
Vice Chancellor William Wade has announced that Tricia Bunten has been named Chief Development Officer for the University of Minnesota Duluth, beginning her duties on October 15.
Since 2001, Ms Bunten had served as Director of Development for the UMD Swenson College of Science and Engineering. Prior to joining UMD, she worked for seven years at the Bemidji State University Foundation.
A native of Wausau, Wisconsin, Ms Bunten holds a Master of Arts degree in Philanthropy and Development from St. Mary's University and is a Certified Fundraising Executive (CFRE).
Beginning January 2011, she will be the Chair of the Minnesota Planned Giving Council.