Communication Associate: Public Relations
| Lori Melton |
lmelton@d.umn.edu
| (218) 726-8830
---
December 9, 2010
Susan Beasy Latto, Director, Media and Public Relations 218 726-8830 slatto@d.umn.edu
Lawrence Johnson, Director of Development, UMD Labovitz School of Business and Economics 218-726-6696 lpjohnso@d.umn.edu
UMD Dean Appointed to Global Business Blue Ribbon Panel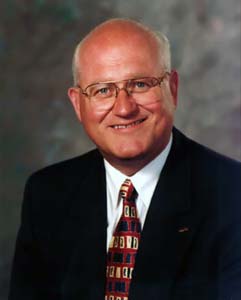 UMD Dean Kjell Knudsen
The Association to Advance Collegiate Schools of Business (AACSB) International has announced that Kjell R. Knudsen, Dean, UMD Labovitz School of Business and Economics, was appointed to its Blue Ribbon Committee (BRC) on Accreditation Quality.
This global committee of business and business school experts will evaluate the state of readiness of AACSB accreditation standards and processes to ensure the alignment of business practice and management education. The committee also will set appropriate expectations for quality and continuous improvement that business schools must continue to demonstrate in the future.
Members of the committee represent a cross section of the AACSB membership; including accredited schools, schools in the accreditation process, and representation from non-education institutional members. The BRC will perform a comprehensive review of the AACSB accreditation standards, eligibility criteria, and the accreditation process.
About the AACSB:
The AACSB was founded in 1916 and is an association of more than 1,200 educational institutions, businesses and other organizations in 78 countries. AACSB's mission is to advance quality management education worldwide through accreditation, thought leadership, and value-added services. AACSB accreditation is the mark of quality distinction most widely sought after by business schools. Less than 5 percent worldwide have earned the achievement. As the premier accrediting body for institutions offering undergraduate, masters, and doctorate degrees in business and accounting, the association also conducts a wide array of conferences and seminar programs at locations throughout the world. AACSB's global headquarters is located in Tampa, Florida, USA and its Asia headquarters is located in Singapore.