Communication Associate: Public Relations
| Lori Melton |
lmelton@d.umn.edu
| (218) 726-8830
---
December 5, 2010
Susan Beasy Latto, Director, Media and Public Relations 218 726-8830 slatto@d.umn.edu
Howard Mooers, Professor, UMD Dept of Geological Sciences 218-726-7239 hmooers@d.umn.edu
UMD INSTALLS THE AMAZING "ROBODOME"

STATE-OF-THE-ART TELESCOPE SCANS THE SKIES
ATOP THE MARSHALL W. ALWORTH BUILDING
A special, highly advanced telescope nick-named "Robodome" is probing the skies from the roof of the Marshall W. Alworth Building on the UMD campus. With both remote and up- close controls "Robodome" is an exciting instrument that can view celestial objects and locate millions of astronomical features with just the clicks of several strategic buttons.
Protected by a white fiberglass encasement shaped like a dome, the futuristic "Robodome" features complex, state-of-the-art software. Functional characteristics of that software include turning the telescope on, opening the dome, and aiming the lens anywhere in the sky. A built-in camera takes photographs of the celestial scenery and saves them on the computer. These photographs can be studied on the computer or connected to the UMD Alworth Planetarium for further observation. The convenience of controlling the telescope from indoors is enormously valuable for students and faculty.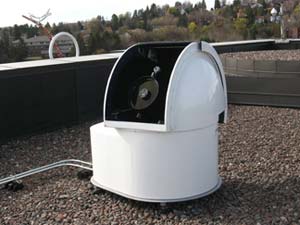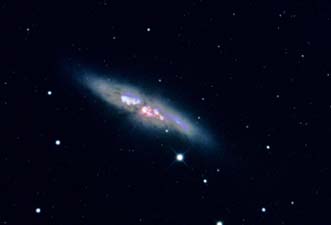 The 11-inch diameter Schmidt-Cassegrain telescope is an important scientific addition to the UMD campus. Wherever a computer and the Internet are present, the telescope can operate. Its capabilities include a catalog of astronomical collections filed in the computer's database. With a single click, the telescope moves into position and focuses in on a designated celestial object. Viewers are able to study live footage of galaxies, planets, stars, nebulae, and so much more.
"As fascinating as the universe is from the lens of this amazing telescope, the practical use is also outstanding for students and faculty," said Howard Mooers, UMD professor of Geological Sciences and "keeper" of "Robodome". Moores goes on to say, "Photometry and astrometry students greatly benefit from the valuable research collected. This exceptional observatory has greatly expanded educational options in UMD's astronomy minor program and has opened up new and exciting areas for undergraduate and graduate research as well."
With real-time coverage, students and teachers are able to study the composition of the universe."