UMD Biology Associate Professor Allen Mensinger has co-founded a new undergraduate research program at the internationally renowned Marine Biological Laboratory (MBL) in Woods Hole, Massachusetts. Along with Paul Malchow, a faculty member at University of Illinois, Chicago, Professor Mensinger developed the Biological Discovery in Woods Hole (BDWH) program, pairing undergraduates and faculty mentors for summer research.
In this inaugural year of the program, UMD student and Biology major, Samantha Lindemann, joined nine other undergraduates from U.S. universities. Each student is paired with MBL scientists as research mentors at this international center for research and education in biology, biomedicine and ecology. The undergraduates join the more than 470 advanced graduate students and post-docs at the facility.
UMD Professor Mensinger is Samantha Lindemann's mentor. While Lindemann was involved with research at UMD before coming to the MBL, Professor Mensinger says that she is experiencing a radical change in the "scale" of her research--switching her focus from small zebrafish to one meter-long smooth dogfish.
"BDWH received over 120 applications for the program's ten slots," said Mensinger. "Samantha Lindemann's selection provides further proof that UMD's biology majors are nationally competitive. She has been able to transition seamlessly into a very high pressure research environment and is performing neurophysiology and neuroanatomy experiments on both toadfish and sharks. Her future plans are to apply to Ph.D. programs in the fall and the BDWH program already has allowed her to interact with potential graduate school mentors." Lindemann was recently awarded the UMD Mowbray Scholarship in the Biological Sciences.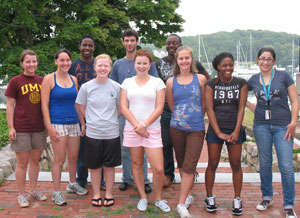 UMD Biology student Samantha Lindemann (left)
along with other students in the 2010 Biological
Discovery in Woods Hole, Massachusetts.
Lindemann is enjoying her summer in Woods Hole. "We are immersed in science. It's discussed not only in the lab, but at breakfast, during lectures, and at receptions; science is basically the main topic of conversation," she said. "I can see how much cooperation and collaboration goes into biological research. For example, if I have a question about fish histology, I can walk up the stairs and talk to Dr. Steve Zottoli. If I want to talk about microbial oceanography, I can walk across the street and talk to Dr. Julie Huber."
The students are receiving hands-on contact with the high tech and not-so-high-tech devices needed to conduct experiments. "There is a lot of fancy equipment, but there is also a lot of equipment that scientists have designed and made themselves," Lindemann said. "Sometimes we have to get creative. One of my favorite items in the lab is a five-gallon pail with hash marks for 1 to 14 liters marked on the side. This bucket makes measuring water to anesthetize a shark or transport a toadfish much easier. I never would have thought I would become so attached to a five gallon pail."
Lindemann said she is extremely grateful for the opportunity to participate in the program. "Dr. Mensinger really gave me an incredible opportunity, not only to do research this summer, but also to be immersed in the mecca of science that is MBL," she said. "I am honored that he had enough confidence in my academic abilities to bring me to the MBL."
In the BDWH program, promising juniors and seniors in college are provided with research experiences that are only available at a few institutions. Students and investigators tackle projects in molecular and cell biology, neurobiology and behavior, physiology, developmental biology, ecology, and evolutionary biology.
In addition to conducting research, students attend events several times a week where they meet and hear established researchers speak about life as a scientist. Discussion topics include graduate school applications, choosing a career path, and ethics in science. Students also frequently participate in field trips and group activities. The BDWH students will present their research findings at a symposium at on August 19.
The program is funded by a National Science Foundation – Research Experiences for Undergraduates (NSF REU) grant. Mensinger and Malchow say that they are indebted to Marine Biological Laboratory staff and administration for their support of the establishment of the BDWH program. Mensinger and Malchow have long been dedicated to supporting undergraduate research, and they hope BDWH opens new doors for students.