UMD campus will celebrate Earth Week April 17-26, featuring special events and activities focusing on environmental awareness. The campus will host a series of lectures, student-neighbor clean-up projects and educational workshops to support the continuation of UMD sustainability efforts. Earth Week events at UMD provide students, staff and community members with an opportunity to learn about responsible environmental behavior. All events are free and the public is cordially invited.
Pitch in for campus sustainability by signing the UMD Energy Pledge.
If we each take small actions every day, the results will add up. Saving energy, reducing emissions and saving money are all part of helping sustainability efforts at UMD. The Pledge asks for simple, everyday actions that anyone can do: from enabling energy saving settings on computers, to turning off lights, to ramping up your recycling habit.
Join now at: http://www.d.umn.edu/sustain/
FOR ENVIRONMENTAL AWARENESS---UMD Stores Have Gone Bagless for April.
More info Ann Pellant: apellant@d.umn.edu or 726-8540
---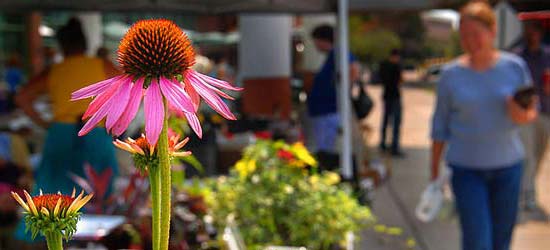 UMD Earth Week Events Include:
April 17: UMD Campus Beautification and Clean-Up
What: Help make the UMD campus a cleaner and healthier place

When: Saturday, April 17th from 11 am - 1pm

Where: Several locations around the UMD campus

How: Contact Brian Bluhm with the Office of Civic Engagement (bluh0020@d.umn.edu, 726-6623) to sign up. Volunteers will form teams to concentrate on a particular area of campus and enjoy some pizza for lunch at 1pm.

Why: For the benefit of students, staff, faculty, the community and campus visitors; in honor of Earth Day; to prevent campus trash from spreading into the neighboring community and down the hill into Lake Superior
April 21: UMD Sustainability 2010 and UMD Storm water Pollution Prevention Plan
What: Find out how UMD sustainability efforts are going and how you can help.

When: Wednesday, April 21, 11:30 am -- 1:00 pm

Where: UMD Library rotunda

Refreshments begin at 11:30 am with lecture and questions/answers begin at noon. Mindy Granley, UMD Campus Sustainability Coordinator will give an update on sustainability efforts in UMD operations, academics, and administration. An opportunity for comments and questions on UMD's current Storm Water Pollution Prevention Plan (SWPPP) will also be a focus.
April 22: UMD Spring Sustainability Fair
What: Celebrate Earth Day by attending the Spring Sustainability Fair! The Fair's theme is Art + Design.

Where: UMD Kirby Student Center/Kirby Lounge

When: Thursday, April 22, 9:00 am --3:00 pm

WHAT CAN I DO AT THE FAIR?

Attend an engaging talk with community experts (Location: UMD Kirby Lounge):

10 am Architect David Salmela, FAIA presents A Macro and Micro Look at Sustainability. David will present a broad look at sustainability in design and construction of buildings

11 am Sustainability in the Community: Pastor David Carlson talks about sustainability efforts, Natural Step training, and changes at the Gloria Dei Lutheran Church

12 pm Sue Meyers, UMD Masters of Fine Art student, will discuss the Art for Healing Project

1 pm Ryan Jordan: Music and social change.

UMD, and vendor interactive booths (Location: Kirby Student Center Hallway)

Includes: Cut Loose Creations, Peace Coffee, Jes Durfee Glass Creations, Boreal Natives, KUMD, UMD Stores, Kirby Leadership Institute, UMD Office of Civic Engagement, UMD Office of Sustainability, UMD Sustainable Agriculture Project, UMD Civic Engineering Student Projects, Interactive Art Booths (work to be created by passers-by - inspired by artists Leslie Bohnenkamp and Judy Onofrio) and more.

Stop by the UMD Stores Express to check out the Recycled-Re-Used and Social Justice Art Showcase (UMD Student and Duluth area elementary school art inspired by artist Big Al Carter. Art created through UMD Masters of Liberal Studies Student Susan Meyers project Imagine: Creating a Journey into Healing through Art. Art will be on display from Monday, April 19th - Friday, April 23rd.
April 29: Bike-To-School Fest
What: Bike to School Fest

When: Thursday, April 29, 11 am - 4pm

Where: Outside on the Kirby Bus Hub plaza

Do you bike to UMD? Wonder how to care for your bike? Then bike (or board, bus, blade or even walk!) to the Kirby Bus Hub for the second annual Bike-to-School Fest! The purpose is to encourage UMD staff and students to tread a bit more gently on the earth by biking, walking, boarding, blading, and busing to UMD. Stop by for information on local bike trails, talk to Fit City Duluth about healthy ways to commute, learn how to load your bike on a DTA bus bike rack, register for prizes (including an individual covered and secure storage locker on campus for your bike!), and find out more about biking in Duluth. Tables from local organizations and businesses will be located outside near Kirby bus hub.

This event is sponsored by the Student Sustainability Coalition and the UMD Cycling Club. For more information, contact Mindy Granley, Sustainability Coordinator 726-8198 or mgranley@d.umn.edu or Hannah Schoof, Sustainability Intern in Health Education, at schoo076@d.umn.edu
April 29: Duluth Bike Route Network Public Meeting
What: Public meeting to discuss biking and/or walking issues in the community

When: Thursday, April 29, 6:00 pm

Where: Garden Room, UMD

Ever wish Duluth had marked bike paths and bike lanes? Bike enthusiasts are invited to give feedback about biking and walking in the City of Duluth and at UMD. For more information: contact Codie Leseman at 218-940-3186 or lesem002@d.umn.edu
April 26: Overman Lecture on The Roadmap to Energy Independence
What: Author Joseph Shuster will speak on The Roadmap to Energy Independence

When: Monday, April 26, 7:00 pm

Where: Weber Music Hall

Joseph Shuster is the author of "Beyond Fossil Fools: The Road to Energy Independence." Come hear Mr. Shuster's plan: trade Energy Foolishness for Energy Independence. Join this important conversation about the future of energy as Mr. Shuster outlines how we must urgently map a new energy direction to avert energy disasters that loom on the horizon.
April 20 and April 22: Edible Landscape project & garden construction
What: Using food as part of UMD landscaping

When: Gardens will be built April 20 and April 22, from 8:30 am--10:00 am

Where: Outside courtyard on top of the MWAH building, near the upper greenhouse

Professor Randy Hanson's Urban Ecology Class, UMD Facilities Management and other volunteers will be constructing small campus food gardens from 8:30-10 am on both April 20 and April 22. Note: volunteers needed for watering and maintenance over the summer. There will also be a need for additional volunteers for harvest events in the fall. Contact Brian Bluhm with the Office of Civic Engagement (bluh0020@d.umn.edu, 726-6623 to sign up. (Note: volunteer positions are open to UMD students, faculty & staff for liability reasons.)
April 24: Better Neighbors City Clean-Up
What: UMD students make a positive impact on the Duluth Community

When: Saturday, April 24, 1 pm --3 pm

Where: Meet in Portland Square (10th Ave E and 4th St), then disperse in teams to pick up garbage throughout the east hillside and neighborhoods surrounding the UMD campus.

How: Contact Thomas DeMinico @ demi0042@d.umn.edu to sign up or if you have questions. Sign up by Wednesday, April 21.

Why: The Clean-Up is a great volunteer opportunity and shows student commitment and support to our community. Come enjoy free food and drink, win great prizes, and make a difference in Duluth at this year's Better Neighbors City Clean-Up!