Communication Associate: Public Relations
| Lori Melton |
lmelton@d.umn.edu
| (218) 726-8830
---
April 12, 2010
Susan Beasy Latto, Director, UMD Public Relations 218 726-8830 slatto@d.umn.edu
Kate Andrews, Special Events Coordinator 218 726-7005 kandrews@d.umn.edu
See website at http://www.beyondfossilfools.com/
Joe Shuster, Author of
"Beyond Fossil Fools:
The Roadmap to Energy Independence by 2040"
to Speak at UMD
April 26
Joe Shuster, author of Beyond Fossil Fools: The Roadmap to Energy Independence by 2040, will speak, Monday, April 26, at 7 p.m. in the Weber Music Hall, UMD campus.
The speech is a presentation of the Ben and Jeanne Overman Distinguished Speakers lecture series, made possible by the Ben and Jeanne Overman Charitable Trust. The presentation is free and the public is cordially invited. There will be a reception and book signing after the presentation.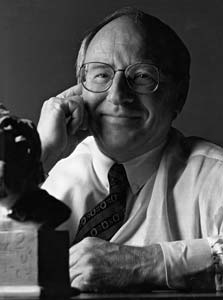 Joe Shuster
For the past 35 years, Joe Shuster has been sounding the alarm about our reliance on fossil fuels and what he terms the "energy foolishness" inherent in our unmitigated use of these fuels. He stresses the idea of working toward a fuel-efficient way of life for future generations, outlining ways that he sees to do this. The 76 year-old Shuster, a retired successful chemical engineer, reviewed some 50 books on energy before deciding he needed to write his own.
Shuster's book has been called a landmark work on the energy crisis, and a book every citizen should read. According to Mr. Shuster, if things don't change--and fast, we are irreversibly headed toward a future of expensive and scarce energy with unending international conflicts over limited fossil resources. He states that we face a grave problem of national security.
About Joseph M. Shuster:
Joseph M. Shuster was born in Hibbing, Minnesota during the Great Depression. He graduated from the University of Minnesota in 1954 with a degree in Chemical Engineering. After graduation he worked in New Orleans for Freeport Sulphur Co., but later returned to the Iron Range where he worked as a Project Manager for McKee & Co. In 1962, Mr. Shuster co-founded MN Valley Engineering, headquartered in New Prague. Joe Shuster is a true entrepreneur, who founded or co-founded nine different companies and has served on the Board of Directors of over 20 businesses, organizations and international firms.
Mr. Shuster has testified before Congress, and lectured widely. He has received numerous awards which include: the University of Minnesota Founders' award (1992), the Minnesota High Tech Association President's Award (1994) and the Beatrice Food Company Hall of Fame Award for Management.