Communication Associate: Public Relations
| Lori Melton |
lmelton@d.umn.edu
| (218) 726-8830
---
April 1, 2010
Susan Beasy Latto, Director, UMD Public Relations 218 726-8830 slatto@d.umn.edu
Stan Burns, Assoc Dean, UMD Swenson College of Science & Engineering 218 726-6147 sburns@d.umn.edu
See website at http://www.d.umn.edu/scse/newsandevents/2010csc/
UMD Engineering Students Receive Hawk Technology Safety Award
at Annual Clean Snowmobile Challenge
UMD One of Only Three Teams to Complete the 40-mile Endurance Run
UMD Engineering students were awarded the Hawk Technology Safety Award at the annual Clean Snowmobile Challenge held in mid-March at the Michigan Technological University of Keweenaw. The Clean Snowmobile Challenge is an intercollegiate engineering design competition sponsored by the Society of Automotive Engineers (SAE).
The five UMD students competed with 18 other universities at the 2010 SAE Clean Snowmobile Challenge. UMD was one of only three teams to complete the 40-mile endurance run over a very difficult track that included snow, slush, mud and water (because of unseasonably warm weather this year). Each collegiate team was also required to deliver a formal presentation and submit a technical paper.
The Clean Snowmobile Challenge is a competition in which engineering students are challenged to re-engineer an existing snowmobile for improved emissions and noise--while maintaining or improving the performance characteristics of the original snowmobile. There is also a zero emissions division for battery-powered sleds. The snowmobiles are also required to be cost effective.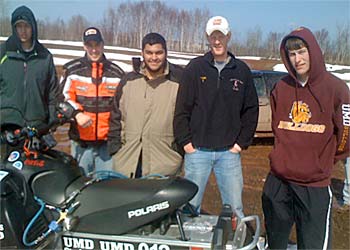 The UMD Students are: (pictured left to right)
Miles Wittlief, Kyle VanTatenhove, Asad Jawed,
Sam Cassibo-Team Captain, Jeremy Olson
Students from the UMD Departments of Electrical & Computer Engineering and Mechanical & Industrial Engineering modified the mechanical and electrical systems of their stock snowmobile which was donated by Polaris.
The UMD Students are: (pictured left to right in the photograph)
Miles Wittlief
Kyle VanTatenhove
Asad Jawed
Sam Cassibo-Team Captain
Jeremy Olson
Faculty adviser for the students is Professor Stanley Burns, Assoc Dean, UMD Swenson College of Science & Engineering
Some of the universities also competing in the Challenge were: The University of Wisconsin-Madison, Michigan Tech, The University of Idaho, The State University of New York at Buffalo and South Dakota School of Mines and Technology.