University of Minnesota Duluth (UMD) Chancellor Kathryn A. Martin announced today that she will step down as chancellor on July 31, 2010 after the end of the 2009-2010 academic year. She made the announcement this morning at a kick-off breakfast for faculty and staff.
A native of Rhinelander, Wisconsin, Dr. Martin came to head the UMD campus in August 1995, becoming the first female chancellor in the University of Minnesota system. This school year will mark Martin's 15th year as chancellor. Under her dynamic leadership UMD has undergone an unprecedented period of growth in size, academic stature and program development.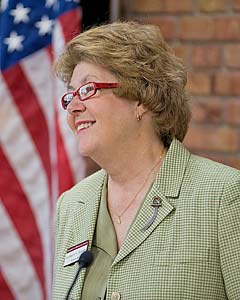 "Leaving a place you love is never easy," said Chancellor Martin. "My years at UMD have been exciting and fulfilling. Through the accomplishments and strong support of highly talented faculty, staff and students, UMD has reached many important milestones. We are richly blessed by the support of friends, donors, public officials and the area community, without whom our goals could not have been realized. After 15 years it is time to take my leave. I am deeply thankful to all and grateful for this opportunity."
Dr. Martin will leave a strong legacy of robust growth, stunning buildings, and far-reaching new programs.
Robust Growth:
During her tenure in office, UMD total enrollment has grown from 7,500 in 1996 to 11,300 this current school year.
UMD currently offers 13 bachelor's degrees in 80 majors, and graduate programs in 25 different fields, along with two doctoral degrees. The UMD campus also has a two-year program in the U of M School of Medicine-Duluth and a four-year program in the U of M College of Pharmacy-Duluth.
UMD alumnus and donor Joe Labovitz said of Martin: "She is absolutely irreplaceable. Kathryn Martin is a superb chief executive of this university. She is a great leader, manager, executive, teacher and citizen. She is an extraordinary woman to have had as a leader in these most important years for UMD. In her 15 years, she has overseen the creation and major renovation of 12 major buildings on campus. Her positive impact on UMD will live forever."
Stunning New Buildings:
Since 2000, twelve new buildings and major renovations have been completed, or are under construction, on the UMD campus.
A few examples include:
The $26 million state-of-the-art UMD Library, designed by Duluth architect Ken Johnson, opened in fall 2000.
Weber Music Hall, designed by world-famed architect Cesar Pelli, opened fall 2002.
The $33 million James I. Swenson Science Building, designed by acclaimed Chicago architect Carol Ross Barney, was completed winter 2005.
The Labovitz School of Business and Economics, designed by renowned architect Chicago Ralph E. Johnson, opened summer 2008.
The new Civil Engineering Building, designed by Carol Ross Barney (complete with large water flume and two 15-ton hydraulic cranes) is set for completion fall 2010.
Benefactor and UMD alumnus James Swenson said, "Kathryn Martin has truly shaped the University of Minnesota Duluth to be an outstanding leader in the education of young people. Her openness in communicating with students and her strong support and encouragement of faculty and staff have created an excellent tradition of very strong teaching and research. UMD graduates receive a truly superior education."
Under her enthusiastic leadership and encouragement, UMD has launched numerous, exciting new initiatives and expanded programs.
New Initiatives and Expanded Programs:
A new major in Civil Engineering was begun fall 2008. Student interest was very high and enrollment reached capacity very quickly.
Two doctoral programs--
a Doctor of Education (Ed.D.) degree program was begun in August 2007, and
a Ph.D. Program in Integrated Biosciences (IBS) was launched in September 2008.
The unique, cutting edge Bioscience Program is one of only four in the nation.
UMD faculty research and federal grants total approximately $20 million per year, second only to the Twin Cities campus, and more than all of the other state colleges and universities combined.
UMD graduated the largest American Indian Teacher Education Group in State History in 2003. The Gekinoo'imaagejig ("The Ones Who Teach") continues to be a very successful, unique collaboration with Fond du Lac Tribal and Community College and UMD.
2+2 Transfer Agreements were launched with six community colleges in 1999 ensuring seamless transfer of credits to UMD for thousands of students.
The Blue Heron UMD Research Vessel was acquired in 1997 and provides important Lake Superior fresh water research by UMD professors with worldwide significance and global implications
The UMD Honors Program for high achieving students was launched in 2002. UMD was inducted into membership by the Mortar Board National Honor Society in 2009.
The Best of Class Scholarship Program was begun in 1999 to attract first and second ranked high school students in every high school graduating class throughout Minnesota. Since its inception, approximately 2,660 students have received Best of Class Scholarships
The Graduation Planner (a dynamic web based tool that simplifies the degree planning process) was hatched on the UMD campus in 2001, and is now being used system-wide.
A new UMD Women's Hockey Team hit the ice in 1999, and went on to win four NCAA Division I national championships, more than any other university in the country.
NOTE: on March 21, 2010—they won their fifth NCAA Division I national championship.
UMD Football Team won the NCAA Division II national championship in 2008 finishing the year with a perfect 15-0 record.
The UMD Sieur Du Luth Summer Arts Festival was launched in 2006 and has continued to enrich and entertain thousands of area residents and visitors. Chancellor Martin directed two plays for children in the summers of 2007 and 2004.
Before coming to UMD, Kathryn Martin spent five years at the University of Illinois at Urbana-Champaign where she served as Dean of the College of Fine and Applied Arts and co-director of the National Arts Education Research Center.
After stepping down as chancellor, Dr. Martin will continue doing some special projects for UMD.