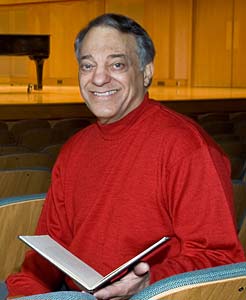 Well known performer, teacher and award-wining writer UMD Professor Joseph Maiolo will present his annual holiday performance of Truman Capote's "A Christmas Memory" on Friday December 11 at 4 p.m in the Weber Music Hall on the UMD campus.
Professor Mailo's reading has become a very popular annual holiday tradition in the community.
Everyone is cordially invited, and admission is free.
Joseph Maiolo is a professor of English at the University of Minnesota Duluth, where he teaches literature and fiction writing. His short stories have been published in The Sewanee Review, Ploughshares, Shenandoah, The Texas Review, other magazines, and anthologies.
Several of his stories and a novella have won national awards, including citation in The Best American Short Stories, a Pushcart Prize, three PEN/Syndicated Fiction Awards (two of the three stories read on National Public Radio), and two National Endowment for the Arts Literary Fellowships.
Maiolo's work has also received a Bush Artist Fellowship and a Loft-McKnight Award of Distinction in Fiction. "The Girl and the Serpent," an excerpt from his memoir in progress, was published by Beacon Press (Boston) in Resurrecting Grace: Remembering Catholic Childhoods.
Maiolo has completed two novels and assembled a collection of his short stories; the works are being submitted to publishers by a literary agent.
Recently, he has written the lyrics for a suite of four songs: folk, classical, jazz, and rock.
Joseph Maiolo was born in West Virginia, was raised in the Cumberland Mountains of southwestern Virginia, and has degrees from the University of Virginia (M.A.), the University of North Carolina at Greensboro (M.F.A.), and the United States Naval Academy (B.S.).