Communication Associate: Public Relations
| Lori Melton |
lmelton@d.umn.edu
| (218) 726-8830
---
May 6, 2009
Susan Beasy Latto, Director, UMD Public Relations 218 726-8830 slatto@d.umn.edu
UMD Graduate Student Commencement

May 14

UMD Romano Gym
7 p.m.
Featured Speaker is
Distinguished Geoscience Researcher
and
Professor Vickie Hansen
UMD graduate student commencement ceremonies are set for Thursday, May 14 at 7 p.m. in the UMD Romano Gymnasium. Advanced degrees will be awarded to 170 students at the event. Total number of graduate degrees awarded from UMD this academic year is 225. UMD professor and distinguished geoscience researcher Vickie Hansen will deliver the featured commencement address.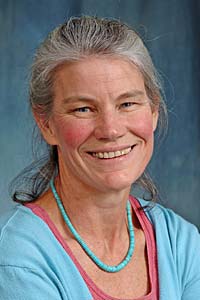 Professor Vickie Hansen
Professor Hansen is a professor of geological sciences at UMD. She earned her degrees in Geology: B.A. from Carleton College (1980), M.S. from University of Montana (1983) and Ph.D. from UCLA (1987). Hansen joined the faculty at Southern Methodist University (SMU) in 1987 where she advanced to Associate (1993) and Full Professor (1997); she served as Chair of the newly formed Environmental Science Program (1998-2000). At SMU Hansen received the Sigma Xi Outstanding Research Award and the Phi Beta Kappa Perrine Prize.
Professor Hansen joined the faculty at UMD in 2002 as McKnight Presidential Professor of Earth and Planetary Sciences; she served as the Geoscience Director of Graduate Studies from 2003-07. This fall she received the 2008-09 Chancellor's Distinguished Research Award, which honors faculty members for their excellence in research, scholarly contributions to their field and for their dedication to student research in education.
Hansen's research and teaching interests include understanding how rocky/icy planets work, evolve, and lose heat; in short, how they tick. She is particularly fascinated with the bending and breaking of planet surfaces, and the resulting record of operative planetary processes, especially on Earth and Venus. Fundamentally it all comes down to rheology - an excuse to play with her food, and encourage students to do the same.
Hansen has served on editorial boards for Geology and Geological Society of America Bulletin, and on review/advisory panels for American Geophysical Union, Geological Society of America, Lunar and Planetary Institute, NSF, NASA, and the Smithsonian. She currently serves as Associate Editor for the Journal of Geological Research.
She is a Geological Society of America Fellow, and member of AGU, Phi Beta Kappa, and Sigma Xi. Hansen has authored over 60 refereed papers or book chapters, 11 geologic maps, and over 130 conference presentations, many with students.