Winners of the 21st annual Northeastern Minnesota Book Awards (NEMBA) will be announced at an afternoon community celebration on Sunday, May 17, 2009, at the Marshall Performing Arts Center on the UMD campus. The festivities will include a book fair, a pie reception, nominated author readings, the featured speaker, and the awards presentation, honoring books published in 2008.
The book fair, with author readings and reception, begins at 12:30 p.m., and the main program and awards presentation starts at 3:30 p.m. All of these events are free of charge and open to the public.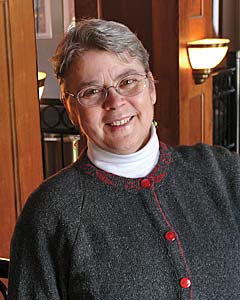 Annette Atkins
The focus of this year's NEMBA program centers on the legacy that books about northeastern Minnesota leave for the future. The keynote address will be given by Annette Atkins, a professor of history at St. Benedict's College of St. John's University. She wrote "Creating Minnesota: A History from the Inside Out" (Minnesota Historical Society Press, 2007). Winner of a Spur Award for the Best Western Nonfiction Historical Book, this new history of our state presents a fresh understanding of how a complex and modern Minnesota came into being.
Barton Sutter, Duluth's first poet laureate, will emcee the program and present the awards. Forty-seven books were entered in six categories for this year's NEMBA: (1) Nonfiction, (2) Fiction, (3) Art / Photography, (4) Children's Literature, (5) Poetry, and (6) Memoir / Creative Nonfiction. Winning authors will receive $300 and a glass plaque, and authors of books chosen for honorable mention will also be honored with a plaque.
On Saturday, May 16, UMD Library and Lake Superior Writers will host the NEMBA writing workshop, led by Annette Atkins, entitled "Writing and Remembering Our Stories." This workshop, from 2-4 p.m. in the UMD Library Rotunda (4th floor), will explore the sacred responsibilities of writers' work and words. As Atkins says, "Whether we are writing history, memoir, fiction, or poetry, we are constructing stories that describe and define us, individually and collectively." The writing workshop fee is $35 for LSW members and $40 for nonmembers. To register, e-mail deborahdebcoop@aol.com.
NEMBA is supported by UMD Library, Lake Superior Writers, Friends of the Duluth Public Library, and Northern Lights Books and Gifts. Barnes & Noble Booksellers will donate a book on writing for a prize drawing.
For more information, visit the NEMBA Web site http://www.d.umn.edu/lib/nemba/ or call 218-726-7889.