The University of Minnesota Duluth (UMD) Tweed Museum of Art is the sole beneficiary of the $3.2 million Marguerite L. Gilmore Charitable Foundation—a bequest from the estate of Duluth resident and retired teacher, the late Marguerite Louise Gilmore. The announcement was made today by UMD Chancellor Kathryn A. Martin and Stephen Vaillant, of Wells Fargo Private Client Services in Duluth, who will be administering the Gilmore Foundation bequest.
The Marguerite L. Gilmore Charitable Foundation is specifically designated to the Tweed Museum "to acquire art of high quality with a focus on three-dimensional art---to aid in and enrich the art education of students at UMD and the community in general."
"We are deeply grateful, and we honor the memory of Marguerite Gilmore for her wonderful generosity and her deep commitment to the enrichment of life through art," said Chancellor Martin. "Through her munificent gift, the Tweed Museum of Art will further expand its fine collections and bring education, enjoyment and inspiration to the students and the citizens of our entire upper Midwest region."
According to Museum director, Ken Bloom, the Tweed has already begun looking for acquisitions of high quality three-dimensional works of art. "The procurement process is always a very careful and selective one," said Bloom. "Three-dimensional art is comprised of works of sculpture, ceramics, glass and crafts--and we will also include photography, because it was a favorite hobby of Miss Gilmore."
MARGUERITE L. GILMORE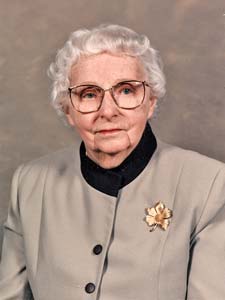 Marguerite L. Gilmore
Marguerite Gilmore (1907-2007) was a native Duluthian and long time member and friend of the Tweed Museum. She was educated in the Duluth Public Schools and was a graduate of Denfeld High School. Her family home was in West Duluth. In 1947, after teaching school in Wisconsin and Iowa, Miss Gilmore returned to Duluth where she taught Art and English at Lincoln Junior High School until her retirement in 1970--after 23 years of teaching.
Upon her retirement, Miss Gilmore enrolled in Art classes at UMD. During that time she was a member and frequent visitor to the Tweed Museum. She is fondly remembered by the Tweed staff as a woman who was passionate about art and art education, and as a strong supporter of the Tweed Museum.
She was an avid photographer and an active member of the Duluth Camera Club, the Photographic Society of American Salons and the Chicago Color Camera Club. She traveled extensively in the United States and Europe. Throughout her life Miss Gilmore entered dozens of photography exhibitions in the United States and Mexico, frequently receiving honors for her work. In addition to photography, she loved sculpting, making ceramics and crafting large mobiles.
Miss Gilmore created the Marguerite L. Gilmore Charitable Foundation as a permanent memorial to her brothers, George C. and Herbert R. Gilmore, and herself.
Marguerite Gilmore died in Duluth in November 2007 at the age of 101.
About the UMD Tweed Museum of Art:
The UMD Tweed Museum of Art is the preeminent art museum of the upper Midwest.
Opened on the UMD campus in 1958, the Tweed has just celebrated its 50th anniversary.
Its mission is to serve students, faculty and the public as an innovative cultural catalyst by collecting, preserving and interpreting art from around the world, and by developing exhibitions and programs for education in the arts. Today the Museum houses a collection of more than 6,000 objects representing a wide-range of cultures and histories.
Hours are:
Tuesdays 9 a.m. to 8 p.m.
Wednesday—Fridays 9 a.m. to 4:30 p.m.
Saturdays & Sundays 1 p.m. to 5 p.m.