After qualifying wins in the February 20 regional tournament, the UMD Mock Trial team has further advanced to compete in the American Mock Trial Association (AMTA) Opening Round Championship Tournament set for March 13 - 15 in Waukegan, Illinois.
There the UMD team will compete against 23 other regional winning teams including those from Notre Dame, Loyola, Northwestern University, the University of Illinois, and the University of Michigan--Ann Arbor. (Other Opening Round Championships will be conducted in California, Tennessee, Missouri, Ohio, South Carolina and Pennsylvania.) If the UMD team is successful in Illinois, they will qualify for the AMTA National Championship Title Tournament to be held in Des Moines, Iowa in April.
Members of the UMD team include: Kelsey Genevich, Laura Zech, Krista Allgor, Eric Glasson, Rob Yount, Peter Zethraus and Josh Eberle. The team coach is UMD Political Science Professor, Mark Jennings.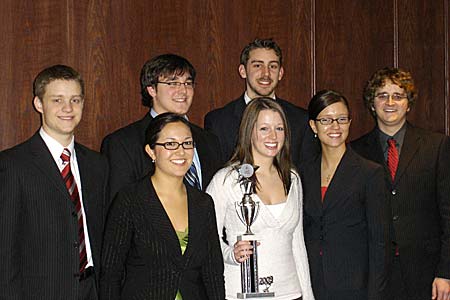 UMD Mock Trial Team - From left to right: Josh Eberle, Krista Allgor,
Peter Zethraus, Laura Zech, Rob Yount, Kelsey Genevich, Eric Glasson.
Students on each team function as attorneys and witnesses who litigate a case prepared by the American Mock Trial Association for use in competition throughout the nation. Mock Trial requires the students to prepare and deliver opening statements and closing arguments as well as examine and cross-examine witnesses. Mock Trial simulates actual trial litigation and requires thorough preparation, composure, and nimble thinking. Mock Trial prepares young people for public speaking in any competitive setting and specifically as future attorneys.
The American Mock Trial Association (AMTA) was founded in 1985 by Dean Richard Calkins of Drake Law School. It serves as the official governing body for intercollegiate Mock Trial competitions through out the United States.