Communication Associate: Public Relations
| Lori Melton |
lmelton@d.umn.edu
| (218) 726-8830
---
January 26, 2009
Susan Beasy Latto, Director, UMD Public Relations 218 726-8830 slatto@d.umn.edu
Professor Steven Matthews, UMD Department of History 218 726-7544 smathews@d.umn.edu
McKnight Land-Grant Professorship Program
Steve Matthews Website
UMD Professor Awarded
2009-2011 McKnight Land-Grant Professorship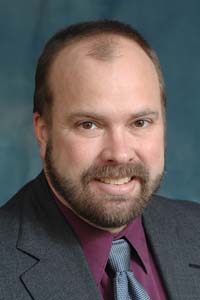 UMD assistant professor of history, Steven Matthews has been awarded a McKnight Land Grant Professorship for 2009-2011. The prestigious professorship program is designed to advance the careers of promising junior faculty at the University of Minnesota.
McKnight Land Grant Professorship recipients are chosen based on the following criteria:
significance of their research
clarity with which it is conveyed to the non-specialist
degree to which past and present achievements demonstrate originality, imagination, and innovation
potential for significant contribution to the discipline
quality of scholarly publications
potential for attracting outstanding students
Each year University departments are invited to nominate their most promising tenure-track assistant professor whose Ph.D., or comparable degree in professional fields, was earned within the past seven years and whose appointment at the University was begun within the past three years. The nominations are reviewed by a selection committee composed of distinguished faculty from across the University.
In his teaching and research Professor Matthews specializes in the history of Science and Christianity with a focus on the foundations of both. His work on Francis Bacon was recently published by Ashgate Press, in the book, "Theology and Science in the Thought of Francis Bacon." His current research includes an examination of the role of religion in the foundations of the British Royal Society.
From the viewpoint of the 21st century, it might be assumed that Science and Religion have always been at odds; but Professor Matthews is using his knowledge of Hebrew, Greek, Latin, French, German, and historical theology to prove that both Science and Religion were essential to the formation in 1660 of the British Royal Society, a leading agent in the scientific revolution.
The McKnight Land-Grant Professorship is a two-year appointment which includes a research grant in each of the two years--to be used at the recipient's discretion for expenditures directly related to research and scholarly activities. In addition, each professor is awarded either a supplementary research grant or a year's leave to pursue research during the second year of the award.
The eleven new winners for 2009-2011 will be presented to the Board of Regents in the spring.