Communication Associate: Public Relations
| Lori Melton |
lmelton@d.umn.edu
| (218) 726-8830
---
January 9, 2009
Susan Beasy Latto, Director, UMD Public Relations 218 726-8830 slatto@d.umn.edu
UMD Grad to Compete in Miss America Pageant
January 24

TV Viewers Can Vote On-Line for Contestants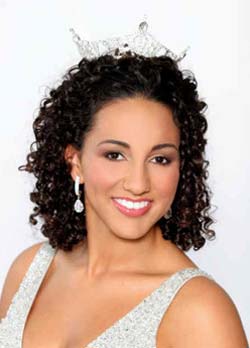 University of Minnesota Duluth (UMD) graduate and current Miss Minnesota Angie McDermott is set to compete in the 2009 Miss America Pageant January 24 in Las Vegas. A member of the UMD class of 2007, Ms McDermott earned a Bachelor of Arts degree in communication and a minor in international studies.
Ms McDermott's pageant platform is entitled "Higher Education: Journey to Your Dreams" and encourages students to start thinking about college at a young age. Her collaboration with the Minnesota Office of Higher Education and the Get Ready! Program helps send the message to students, particularly those at risk of not pursuing college or technical programs.
McDermott visited the UMD campus in October as Miss Minnesota. In her online blog, she said, "It was good to be back in the communication hallway and back at UMD." McDermott is grateful that her position as Miss Minnesota allows her, "to not only visit new places around Minnesota but also to visit places here that I know and love!"
The Miss America Pageant is a well-known competition which awards scholarships to young women from the United States. The contestant who is crowned the winner will receive a scholarship valued at $50,000.
For her talent competition Ms McDermott is singing--which she says is the easiest part of the entire contest. A former Miss Twin Cities, McDermott wants to pursue a career in public relations or event planning. Beyond pageants, McDermott loves sailing, camping, hiking, kayaking, and canoeing.
This is the first year viewers will be able to vote via text messaging for four of the contestants. The text messages will let the winners advance to the top 15 at the Miss America pageant in Las Vegas.
The last Minnesotan to win Miss America was Gretchen Carlson of Anoka in 1989.
The Miss America Pageant airs January 24th on the TLC Channel. For more information on Angie McDermott and her journey to Miss America, visit http://missminnesota.org/