Communication Associate: Public Relations
| Lori Melton |
lmelton@d.umn.edu
| (218) 726-8830
---
February 2, 2009
Susan Beasy Latto, Director, UMD Public Relations 218 726-8830 slatto@d.umn.edu
Andrea J. Schokker, Head, UMD Department of Civil Engineering 218 726-7015 aschokke@d.umn.edu
James P. Riehl, head, UMD Swenson College of Science and Engineering 218 726-6397 jpriehl@d.umn.edu
UMD Announces Head of New Civil Engineering Program
James P Riehl, Dean of the UMD Swenson College of Science and Engineering, has announced the appointment of Andrea J. Schokker as professor and head of the new Department of Civil Engineering.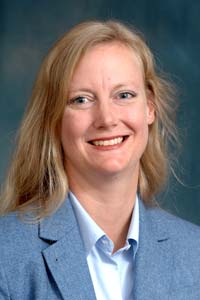 Professor Schokker has a Ph.D. in Structural Engineering from the University of Texas at Austin, and has published widely in both academic and industry journals.
She most recently taught at Pennsylvania State University where she was an associate professor of civil and environmental engineering and director of the Protective Technology Center.
Her areas of expertise include:
Segmental concrete bridge design and construction related research including cementitious grouts
Design and materials related improvements in prestressed concrete
Durability of concrete structures / corrosion of metals in concrete
Blast and impact resistant materials and structures
Dean Riehl said, "UMD is indeed pleased to have someone with Professor Schokker 's knowledge and experience heading up our new program. She has a national reputation in the field of Civil Engineering with expertise in concrete and structures. Her exceptional skills both in teaching and engineering will provide strong leadership and vision for our program."
UMD's $15 million Civil Engineering building is currently under construction on the North East corner of the campus. The 34,000 gross square foot structure is slated for completion January 2010. The building will house sophisticated, specialized teaching and research laboratories as well as classrooms and administrative offices. It is designed to be a LEED Certified "green building".
The new Bachelor of Science degree program in Civil Engineering admitted its first freshman students this fall. Professor Schokker began her duties in August.
ABOUT THE UMD CIVIL ENGINEERING PROGRAM:
According to Swenson College of Science and Engineering Dean James P. Riehl, the development of the Civil Engineering Program at UMD is in direct response to engineering personnel needs expressed by the private and public sectors in our region, and the career aspirations of prospective students and their parents. Areas of focus were determined after consultation with engineering and manufacturing firms in Duluth and Greater Northeastern Minnesota.
The new program will emphasize the fields of:
Water resource engineering
Transportation engineering
Structural engineering
Geotechnical engineering (including mining)
"We intend to graduate civil engineers who have the skills and experience that employers are seeking, and who are prepared to meet the future needs of regional and statewide government agencies and industrial firms," said Dean Riehl. "Our students will be poised to contribute to the development of sustainable solutions to the pressing problems that impact our communities."