Communication Associate: Public Relations
| Lori Melton |
lmelton@d.umn.edu
| (218) 726-8830
---
December 7, 2009
Susan Beasy Latto, Director, UMD Public Relations 218 726-8830 slatto@d.umn.edu
Vincent Magnuson, UMD Vice Chancellor for Academic, Administration 218 726-7103 vcaa@d.umn.edu
Jeffery Gunderson 218 726-8715 jgunder1@d.umn.edu
UMD Names Minnesota Sea Grant Director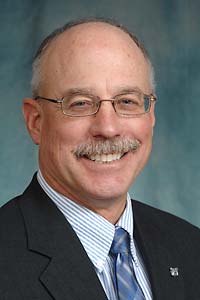 Vincent Magnuson, UMD Vice Chancellor for Academic Administration, is pleased to announce that Jeffrey L. Gunderson has accepted the position as director of the University of Minnesota Sea Grant program located on the UMD campus. Minnesota Sea Grant is an office of the National Oceanic & Atmospheric Administration (NOAA).
Magnuson noted, "Jeff Gunderson has an excellent record of accomplishment at Minnesota Sea Grant. He has served our region well as a fisheries and aquaculture extension educator for 30 years, as associate director for the past 14 years, and as interim director for three different periods. I am confident that he will successfully fulfill this important leadership role for Minnesota Sea Grant."
Gunderson is dedicated to Sea Grant's mission of providing research-based education and outreach to the public. As Associate Director, Gunderson was responsible for outreach coordination, implementation, and evaluation. As Interim Director, he oversaw all Minnesota Sea Grant program operations. Gunderson was chosen chair-elect of the national Assembly of Sea Grant Extension Program Leaders last year, which facilitates interaction among all the Sea Grant extension programs and the entire Sea Grant network. In 2004, he led an effort to work with diverse groups aimed at solving the harbor corrosion issue, bringing together business, industry, government, and academia to address an emerging issue.
Over the past decade, he co-led an effort to develop Aquatic Invasive Species-Hazard Analysis and Critical Control Point (AIS-HACCP), a highly successful program aimed at preventing the spread of aquatic invasive species by business, industry, government, and academia via their operations and products. The process helps identify and control the critical pathways for spread of aquatic invasive species or other non-target aquatic species. It provides for self-monitoring, verification, and recordkeeping systems to help ensure that one's activities do not spread hazards.
Gunderson stated, "I have been fortunate to have worked with dedicated, passionate people through-out my years at Minnesota Sea Grant. I look forward to continuing to advance the Minnesota Sea Grant program by staying true to our original mission of research, outreach, and education while adapting to changing ways of getting our work done. I am thrilled to be able to continue to work with the national and local Sea Grant staff, our partners, and the people we serve in this new capacity."