Joint News Release from UMD and the University of Minnesota Medical School-Duluth Campus
The lives of 33,000 people in the United States alone could be saved each year based on the collaborative discovery of three scientists from UMD, the University of Minnesota Medical School—Duluth and the University of Minnesota Medical School – Minneapolis. Matthew Andrews, Ph.D., Lester R. Drewes, Ph.D., and Gregory Beilman, M.D. have designed a low volume resuscitation fluid that may increase the survival rates of people who die from hemorrhagic shock. The proprietary product is called TamiasynTM which potentially will allow the human body to endure severe blood loss for an extended period of time and also inhibit human organ damage during resuscitation.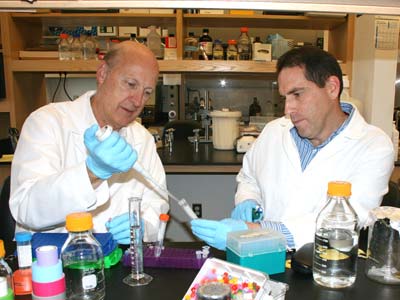 UMD Professors Lester R. Drewes, Ph.D. (left)
and Matthew Andrews, Ph.D. (right)
The University of Minnesota's Office for Technology Commercialization in Minneapolis has authorized a development stage company to hold an exclusive global license to market the product. VitalMedixTM intends to market TamiasynTM in combination with a hemorrhagic shock treatment system. It is hoped that this system will offer first responders, trauma center surgeons and military medics a simple, safe and reliable product for preventing serious organ damage and death among victims of severe blood loss. It is believed that TamiasynTM also might have potential applications during invasive surgery and organ preservation, and in cases of stroke.
The long-standing treatment during hemorrhagic shock is to hook up a patient to an IV of dextrose and/or lactated Ringers, solutions to keep the patient hydrated. But that does not slow blood loss, nor does it keep the organs, including the brain, oxygenated.
Development of the product requires FDA approval, clinical trials and product introduction in Europe and the United States. VitalMedixTM is charged with raising venture capital to invest in the commercialization of the product. According to the company plan, it will be three years before FDA approval, but the clinical trials tentatively should begin in the second year.
"UMD is truly proud and inspired by the research of Professor Andrews, Professor Drewes and Dr. Beilman," said UMD Chancellor Kathryn A. Martin. "Their collaborative discovery is a giant step toward life-saving medical treatment for military and accident victims. Their work exemplifies the high quality research currently being done on the UMD campus."
"Saving lives is the ultimate goal of any scientific endeavor, and we are very proud that TamiasynTM had its start right here on our campus," praised Gary Davis, Senior Associate Dean of the University of Minnesota Medical School—Duluth.
Dr. Andrews, professor and head of the UMD Department of Biology, has been studying hibernating animals for 16 years and is considered an international expert on the molecular biology of hibernation. Lester R. Drewes, Ph.D. heads the Department of Biochemistry and Molecular Biology at the University of Minnesota Medical School-Duluth and is known internationally for his research related to the blood-brain barrier and neuroprotection. He is a recipient of the Javits Award from NIH and the founding president of the International Brain Barriers Society. Dr. Beilman is professor of Surgery and Anesthesia, chief of Surgical Critical Care/Trauma at the University of Minnesota. In addition to research in tissue monitoring during hemorrhagic and septic shock, Dr. Beilman conducts research in pathogenesis and early metabolic changes in shock.
"Since 2000 we have watched Dr. Matt Andrews' hibernation studies unfold," commented James Riehl, dean of the Swenson College of Science and Engineering at UMD. "To see this collaboration with Drs. Drewes and Beilman now come so close to achieving the promise is very exciting, for us as a college and for the public. This is a great example of how academic research may lead to very important benefits to society."
ADDITIONAL FACTS:
WHAT ARE THE MOST PROMISING APPLICATIONS?
The goal associated with TamiasynTM is to extend the survival period (aka "golden hour") post-trauma for several hours, and to protect organ systems and the brain from additional damage prior to and during the blood replacement process. Motor vehicle crashes (MVC), gunshots wounds (GSW) and military field care are the most promising applications for TamiasynTM.
MVCs and GSWs are the leading causes of trauma across all age groups, especially in adolescents and young adults. Mortality and morbidity in these groups can be significantly improved if the patient can survive the initial blood loss induced shock and the trauma associated with blood replacement. Less morbidity will directly translate into decreased healthcare costs through improved clinical outcomes. In other words, it not only increases survival rates, it improves the quality of life of survivors because the compound crosses the blood-brain barrier, preventing brain damage.
Related Statistics:
TamiasynTM potentially could save 33,000 lives in the U.S. alone by extending the golden hour after hemorrhagic shock event. Here is how that figure is calculated: Approximately 80,000 people are killed annually in the U.S. from MVC and GSW. In approximately 85% of these injuries, significant blood loss leading to hemorrhagic shock and organ failure is the cause of death. Of those that die within 30 days of injury 50% die instantly and 75% die with 12 hours. 66% die within one hour, which is why the golden hour post-trauma is a critical period for initiation of resuscitative care. (Data provided by the UofM Office of Technology Development.
People who survive initial trauma require long hospital stays. Because administration of TamiasynTM early in the resuscitative process could provide protection from organ damage due to blood loss and blood replacement, intensive care unit stays will be shortened.
Over the past two years, the experiments of Andrews, Drewes and Beilman have increased the survivability of massive blood loss in experimental rats by employing strategies that hibernating mammals use to survive a Minnesota winter. Hibernating animals use alternative fuels more efficiently. Their oxygen consumption is very low, yet they survive.
The scientists extended the survival of rats subjected to 60% blood loss for up to three hours using a combination of physiological alternative fuel and a specific antioxidant. Without the therapy, the rats would have died in less than ten minutes. Similarly, Dr. Greg Beilman's studies of the therapy on pigs showed promising results that have greater implications for success in humans.
WHAT ARE THE NEXT STEPS FOR THE RESEARCH TEAM?
Andrews and Drewes are readying their research for publication in scientific journals. They also continue to refine and advance the research for other applications, for example the implications of their research to improve the outcomes for stroke and heart attack victims. In addition, they foresee an application for preserving organs used for transplant. Most abdominal organs used for transplantation can be preserved 24 to 48 hours from the point of removal to implant. Hearts and lungs can be preserved only minutes to hours. If their work helps extend the life of the organs, effectively prompting the organs to hibernate, organ banks could be established that make more organs available on an as-needed basis.
For more information:
Michelle Juntunen, University of Minnesota Medical School-Duluth 218.726.6876 or 218.390.7323
Susan Beasy Latto, University of Minnesota Duluth (UMD) 218.726.8830 or 218.348.5688