Communication Associate: Public Relations
| Lori Melton |
lmelton@d.umn.edu
| (218) 726-8830
---
April 20, 2009
Susan Beasy Latto, Director, UMD Public Relations 218 726-8830 slatto@d.umn.edu
Stacy Gerths, UMD student representative 651 492-2605 Gerth016@d.umn.edu
Mindy Granley, UMD Sustainability Coordinator 218 726-8198 mgranley@d.umn.edu
UMD Sets First-Ever
"BIKE TO SCHOOL FEST"
April 23
On April 23, the first-ever "UMD Bike to School Fest" takes place from 11 a.m. to 3 p.m. outside the Kirby Student Center Bus Hub.
The purpose of the event is to encourage UMD staff, faculty and students to tread a bit more gently on the earth. Everyone is invited to bike to school, then to stop by to get information on local trails, register for prizes, and to find out more about the many biking experiences available in Duluth.
Tables from local organizations and businesses will be located outside near the Kirby Center Bus Hub. (see complete list below)
The event is sponsored by the UMD Student Sustainability Coalition and the UMD Cycling Club.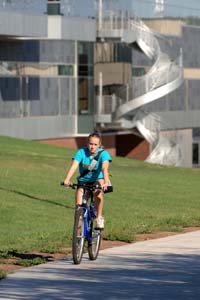 More Information on "UMD BIKE TO SCHOOL FEST":
PURPOSE: to encourage student, staff, and faculty to bike to school. Biking to school will help UMD to become a more sustainable campus, reduce our campus carbon footprint, encourage a more bike-friendly city and neighborhood, and promote better health for students. This outdoor event will allow students to gather together with their bikes, tour the different tables, get their bikes examined to see if they need repairs, and fill out a survey about issue biking on campus and around Duluth- and win prizes!
ORGANIZATIONS PARTICIPATING WITH BOOTHS:
Fit City Duluth: A public/private community initiative designed to change the social and physical environment of Duluth to encourage active, healthy lifestyles. Through information and advocacy, we aim to prevent and reduce chronic health issues and to facilitate healthy built environments that reinforce human powered and public transportation http://www.fitcityduluth.com/
COGGS- (Cyclists of Gitchee Gumee Shores - a local bike organization)
Continental Bike and Ski
Volunteers will be doing bike check-ups
Duluth Area Trails Alliance: (DATA advocates for, promotes, develops and maintains sustainable trail connections and human powered transportation routes in Duluth and the Lake Superior Region to provide healthy and inexpensive recreational and transportation opportunities for all seasons)
Metropolitan Interstate Council: - provide maps, information fliers and is possibly going to get DTA to come and had a bus at the event so students can practice putting their bikes on the rack.
UMD Cycling Club