Communication Associate: Public Relations
| Lori Melton |
lmelton@d.umn.edu
| (218) 726-8830
---
September 2, 2008
Susan Beasy Latto, Director, UMD Public Relations 218 726-8830 slatto@d.umn.edu
Dr. Arthur C. Aufderheide, Professor, Medical School Duluth (218) 726-7911 aaufderh@d.umn.edu
Joe Iacuzzo, "Leonardo" Project Manager (702) 685-8335 (office), (702) 808-1609 (cell) joe@mummydinosaur.com
For more information on "Leonardo" the Dinosaur see: http://www.mummydinosaur.com/
UMD Professor's Work on Very Rare Dinosaur Mummy
Featured on the Discovery Channel
September 14
Primetime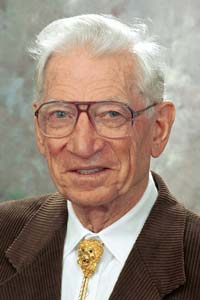 Dr. Arthur Aufderheide
The work of UMD Professor Arthur Aufderheide and a team of research scientists - on the most amazing dinosaur fossil discovery of the century - will be featured in an upcoming primetime Discovery Channel documentary entitled "Secrets of the Dinosaur Mummy." The one-hour program airs on Sunday, September 14 at 9:00 p.m. EST.
Dr. Aufderheide is a professor in the UMD Department of Pathology & Laboratory Medicine (Medical School Duluth).
The documentary chronicles the work of Dr. Aufderheide and the research team on the dinosaur nicknamed "Leonardo," the WORLD'S MOST COMPLETE DINOSAUR FOSSIL EVER FOUND. Dr. Aufderheide's intensive scientific study on the dinosaur offers historically critical information that helps discover the reasons for whatever happened to the dinosaurs and what a living dinosaur ate and looked like. "Leonardo" is the only dinosaur discovered since 1908.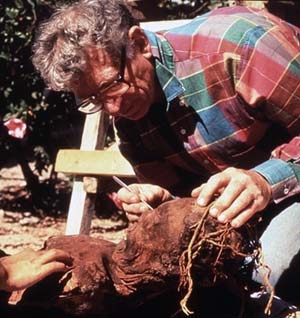 Dr. Auferheide in the field examining a mummy.
Dr. Aufderheide is considered one of the world's leading experts in the field of paleopathology (the study of ancient diseases). He is an expert on the dissection of mummies, and his book, The Scientific Study of Mummies (Cambridge University Press 2003) is considered the authoritative guide in the field. His work has been published internationally, and he was most recently profiled in National Geographic and The New Yorker (May 16, 2005) magazines.
"Leonardo" (the Brachylophosaurus mummy) was unearthed by a field research team in 2001 in Malta, Montana. It is a fossilized mummy - a dead dinosaur that dried out and mummified, then slowly became fossilized. Becoming a fossil means that the spaces between the cells of an animal (and in many cases the cells themselves) are replaced with molecules of different minerals.
DINOSAUR "LEONARDO" HAS MORE SOFT TISSUE PRESERVED THAN ANY OTHER PREVIOUSLY FOUND DINOSAUR FOSSIL. It has all of its skin covering its body - missing only a bit on the head and tail. For the first time in human history a dinosaur fossil is presenting an opportunity to see what a living dinosaur looked like.
The dinosaur mummy will be on display at the Houston Museum of Natural Science, September 19 through January 11. For more information on the exhibition see: http://www.hmns.org/