The UMD School of Fine Arts together with SMDC Health System and HealthPartners today announced a lively and innovative new partnership with the Duluth Public Schools and the Proctor Schools. The purpose of the dynamic new program is to provide--through musical song and dance performances--relevant and stimulating outreach education on important matters of Healthy Living and Intelligent/Safe Health Choices to students--ranging from kindergarten all the way through high school.
Thanks to the generous support of SMDC Health System and HealthPartners the exciting musical learning shows are provided at no charge to the schools.
UMD will kick off the programs in mid-October visiting 160 (kindergarten through 5th grade) classrooms this fall. That number includes visits to all 12 Duluth elementary schools. Plans are to perform for the middle schools this winter, with high school performances set for Fall 2009. The complete program will showcase original performances to an audience of 37,000 students in grades K-12 by June 2010.
The shows will be performed by the UMD VOYAGEURS, a troupe of nine graduate students from the UMD Department of Music selected from around the country from auditions held this spring. The students are earning their Masters of Music degree with an emphasis in performance. The UMD creative collaborative team is made up of local writers, composers, set designers, costume designers and creative director, Cal Metts.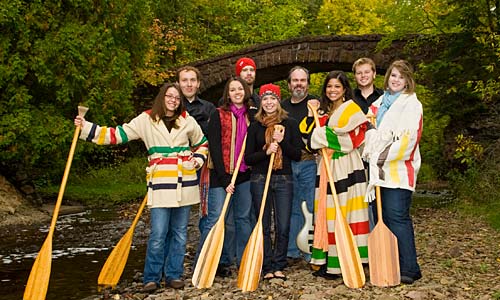 Front row, left to right: Jenna Colaizy, Greg Dokken, Elizabeth Steffensen, Jennifer Graupmann, Brishelle Jacobs, and Christine Hawkins
Back row, left to right: Eric Biglake, Vince Osborn, and Robert Taylor Baggott IV
"Fusing the energy and drama of musical performance with current issues faced by children and youth today is an exciting and effective way to teach and to enrich the student experience," said UMD Chancellor Kathryn A. Martin. "UMD is proud and excited to launch this creative and important new program in our schools."
the subjects for the original shows will range from:
EXERCISE, HYGIENE, HEALTHY FOOD CHOICES, TEETH BRUSHING and HAND WASHING
for the younger children,
to issues such as:
RELATIONSHIPS, PEER PRESSURE, WELLNESS, BULLYING, COMMUNICABLE DISEASES and SUBSTANCE ABUSE
for senior high school students.
"SMDC Health System is pleased to be a sponsor of this innovative new partnership with the Duluth area schools bringing important health information to students in kindergarten through high school. We are deeply committed to this community and to the health and well-being of its children and youth," said Rocky Chapin, Executive Vice President, SMDC Health System.
"Teaching children about health habits such as good nutrition and exercise is really important in setting lifelong patterns," stated Andrea Walsh, HealthPartners executive vice president and chief marketing officer. "It is the key to preventing chronic disease and keeping health care affordable."
After the performances the UMD VOYAGEURS troupe will go into classrooms to visit with students and teachers about the topics included in the shows, and will also provide teaching kits and materials for students to bring home.
In preparing the original material for each of the shows, the UMD Department of Music creative team will meet regularly with a panel of experts in the fields of health--including doctors, nutritionists, social workers, psychologists--as well as teachers, parents and principals from various schools.