Communication Associate: Public Relations
| Lori Melton |
lmelton@d.umn.edu
| (218) 726-8830
---
October 1, 2008
Susan Beasy Latto, Director, UMD Public Relations 218 726-8830 slatto@d.umn.edu
Mindy Granley, Campus Sustainability Coordinator (218) 726-8198 mgranley@d.umn.edu
UMD Announces Appointment of Campus Sustainability Coordinator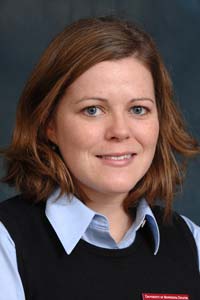 University of Minnesota Duluth (UMD) has announced the appointment of Mindy Granley to the new position of UMD Campus Sustainability Coordinator, beginning September 24.
Prior to UMD Ms. Granley worked as a Coastal Nonpoint Specialist with Minnesota Department of Natural Resources' Lake Superior Coastal Program (2006-2008) and as a Senior Conservation Specialist with South St. Louis Soil and Water Conservation District (2004-2006). She also served with the University of Wisconsin-Superior Lake Superior Research Institute as a Research Specialist (2003-2004) and the City of Superior Environmental Services as a Researcher (2001-2003).
Ms. Granley holds a Master's degree in Water Resources Science from the University of Minnesota, and B.S. degree in Hydrogeology/Environmental Geology from UMD. In addition, Ms. Granley has done graduate work in Paleolimnology and Climate Change statistics through the University of Massachusetts.