A Memorable Celebration Planned
Join UMD at 8 pm on Friday, December 5 for what School of Fine Arts Dean Jack Bowman calls a "magical event" at Orchestra Hall in Minneapolis. "There's something about performing in a premier concert venue that makes all of the performers better musicians. We know magic happens, because we've seen it when our students have performed in Carnegie Hall or the Montreux Jazz Festival. When you combine the excitement of the holidays with performing in an impressive space, it's sure to be memorable."
The UMD Holiday Concert, Sounds of the Season, will feature performances by the Lake Effect Vocal Jazz Ensemble, the Symphonic Wind Ensemble, Jazz Ensemble I, University Singers, Chamber Singers, and the UMD Symphony Orchestra. "The wide range of music offered means a lively and entertaining performance," said Music Department Head Theodore Schoen. The program includes a spiritual medley, a Chanukah song sung in Hebrew, and an old-fashioned sing-along. The full UMD Symphony Orchestra and Choir, conducted by Dean Bowman, will perform Holst's "Christmas Day."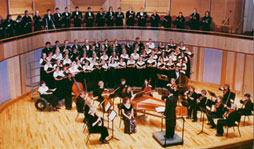 UMD Concert Chorale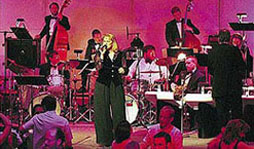 UMD Jazz Ensemble
Begin the Evening with a Pre-concert Buffet
To add to the festivities, UMD is presenting a pre-concert buffet at 6 pm that evening at the Hilton Minneapolis. It's only a skywalk away from the concert at Orchestra Hall. The buffet and concert package tickets are $38 and reservations can be made by calling UMD toll free at 866-726-7164 by December 1. For concert tickets only ($17 adults, discounts for children and students) call the Orchestra Hall Box Office at 800-292-4141 or visit their website on-line at: http://www.minnesotaorchestra.org/
How Do You Get to Orchestra Hall? Practice. Practice. Practice.
Seniors Lisa Zylstra, a flutist majoring in music education, and Luke Wallrich, a singer majoring in vocal performance, are both excited about performing at such a celebrated venue. As Wallrich pointed out, it's also a way to let Twin Cities people know about Duluth's "very energetic music program." Zylstra and Wallrich credit their instructors for much of that energy. "We have an awesome faculty," Zylstra said. Wallrich agrees. "We have some great individuals with great qualifications. All of us are amazed at some of the people they've studied with," Wallrich said. The caliber of the faculty is high but so is the caliber of the students, who devote long hours honing their craft in class and practicing. "Not only by yourself, but with ensembles," Zylstra said.
Scholarships Make All the Difference
"Students perform in the pep band and marching band," said Professor Schoen. Student musicians also make up the orchestra at the UMD musicals. "That's where scholarships help the students. They can't work at an outside job on weekends because they have performances," Schoen said. "My scholarships help so much . . . I'm so grateful," Zylstra said. This year Zylstra received a General Music Scholarship. "The more scholarship money I get, the less I have to work," she added.
Taking Performance on the Road
UMD music students are often invited to perform around the region in auditoriums or gymnasiums. "Orchestra Hall is a lot better than a school gym," Zylstra said. The students appreciate the facilities they enjoy at UMD. Wallrich describes Orchestra Hall as simply "Weber Hall, super sized." But, he is quick to add, "Performing in the Twin Cities is no small feat. They get some big-name acts." Not the least of which are the ensembles and orchestras from UMD.