University of Minnesota Duluth (UMD) Chancellor Kathryn A. Martin announced today that the President of the Republic of Finland, Tarja Halonen is coming to Duluth in July. President Halonen will attend the "FinnFest 2008" celebration in Duluth and will be awarded an honorary Doctor of Laws degree for public service presented by Chancellor Martin and University regents at a 10 a.m. public ceremony, Friday, July 25 at the DECC Arena. The honorary degree is the highest award conferred by the University of Minnesota, recognizing individuals who have achieved acknowledged eminence in cultural affairs, in public service, or in a field of knowledge and scholarship.
A news conference is set for Friday, July 25 at 2 p.m. in the UMD Tweed Museum of Art outlining details of President Halonen's visit and of "Finn Fest 2008".
Over 7,000 persons are expected to attend "FinnFest 2008" which runs July 23 through 27 in Duluth, Minnesota U.S.A. Theme for the five-day event is "Sharing the Spirit of Finland" -a national celebration of the Finnish culture--and will feature entertainment, lectures, displays, exhibitions, concerts, athletic events, worship services and a banquet. Events are planned for all ages, and all Finns and friends of Finns are invited to attend.
The University of Minnesota Duluth (UMD) is the official host for Finnish President Halonen. Any proceeds after expenses from "FinnFest 2008" will go to support the FinnFest Scholarship at UMD, which was begun in 1992. Since that time, over 115 students have received awards from the fund.
Chancellor Martin said, "We are very honored to have President Halonen join us in Duluth for the celebration of 'FinnFest 2008', and very proud to present her with an honorary Doctor of Laws degree. Her outstanding leadership on behalf of the rights of women, and workers, and the poor have made her an international role model; and she is truly deserving of this high award."
According to the 2000 U.S. Census, Minnesota has the largest percentage of people of Finnish heritage of any state in the union. The Duluth area has the largest percentage of Finns living in any urban center in the United States--with 29,602 or 12.14%. The Twin Cities has the second largest--with 44,204 or 1.49%.
Honorary co-chairs for "FinnFest 2008" are two Duluthians who have gained international recognition in their professions. They are cookbook author Beatrice Ojakangas and architect David Salmela. http://www.salmelaarchitect.com/ http://www.beatrice-ojakangas.com/
About Republic of Finland President Tarja Halonen: President Halonen is the 11th president of the Republic of Finland, and Finland's first female head of state. She is widely recognized for her outstanding efforts as a global humanitarian.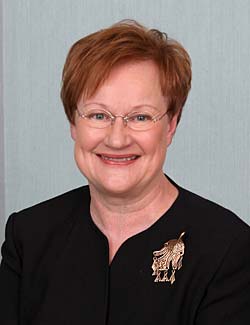 She graduated from the University of Helsinki in 1968 with a Master of Laws degree. She was elected to the Parliament in 1979 and was re-elected four times, until she assumed the office of President of Finland in 2000. She was re-elected president in 2006.
Internationally, President Halonen has remained a powerful voice for the rights of the poor-in Finland, in the Nordic countries, and in the world. She always worked on behalf of welfare rights and workers rights while she was a member of Parliament, and then as the Minister of Social Affairs and Health. Now, as president, she has become a strong spokesperson for the rights of the poor in the Nordic Countries, maintaining that while the Welfare State still has work to do, it cannot and should not be disassembled at the expense of the poor.
With a background in law and as a trained attorney, she has looked at social issues from the perspective of the law. She is most proud of her work as co-chair , with the President of Tanzania, of the World Commission on the Social Dimension of Globalization. Formed by the International Labor Organization, the Commission released its report, "A Fair Globalization: Creating Opportunities for All" in February 2004 to the United Nations--which led to passage of a resolution. She continues to work on this topic, with her belief that globalization has deep impact on the poor. As a president of a small country whose economy is built on companies involved in globalization, she has worked hard to keep the rights of the poor in the global economy discourse.
President Halonen has continually worked on behalf of the rights of women. As a member of Parliament in the mid 1980's, she worked hard for the establishment of the Department of Equality in the Finnish government. President Halonen has served as a role model for women, becoming the first female Minister of Foreign Affairs for the Republic of Finland (a post similar to U.S. Secretary of State) before becoming its first female president. She has understood the significance of her role as a precedent-breaker for women's rights. Under her presidency, more women have been appointed to positions of authority in Finnish government than ever before.
In addition to her work as a global humanitarian, President Halonen is a strong advocate for the arts as an amateur art historian, painter and gardener.