Communication Associate: Public Relations
| Lori Melton |
lmelton@d.umn.edu
| (218) 726-8830
---
June 16, 2008
Susan Beasy Latto, Director, UMD Public Relations 218 726-8830 slatto@d.umn.edu
UMD Women's Hockey Team Travels to the White House June 24
The NCAA Division I Champions to be Honored by President Bush
at White House Ceremonies
on the South Lawn at 3:30 p.m. (Eastern Standard Time)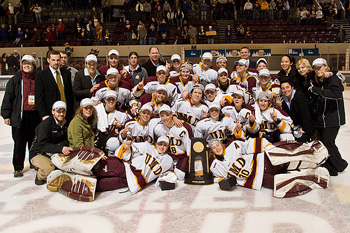 The University of Minnesota Duluth (UMD) Women's Hockey Team, the 2008 NCAA Division I National Champions, will travel to Washington D.C. June 24, to be honored by President George W. Bush at a 3:30 p.m. White House ceremony on the South Lawn. The event marks the fourth time the UMD Women's Hockey Team and head coach Shannon Miller have been invited to the White House. The UMD championship teams were honored previously by President Bush in 2003, 2002 and 2001. UMD Chancellor Kathryn A. Martin will accompany the team.
The UMD Bulldogs finished their 2007-2008 season with a 34-4-1 record, the best-ever for any UMD women's hockey squad in the program's eight-year Division I hockey history.
The Bulldogs captured the 2008 NCAA championship title with a 4-0 final game victory over the University of Wisconsin Badgers. The team advanced to the final game by beating the University of New Hampshire, 3-2, in the Frozen Four semi-final game. The 2008 Frozen Four was held in Duluth, Minnesota March 20 and 22, 2008.