Communication Associate: Public Relations
| Lori Melton |
lmelton@d.umn.edu
| (218) 726-8830
---
June 1, 2008
Susan Beasy Latto, Director, UMD Public Relations 218 726-8830 slatto@d.umn.edu
Thomas D. Peacock, Associate Dean, College of Education and Human Service Professions, (218) 726-8445 tpeacock@d.umn.edu
Priscilla A. Day, UMD Professor and Director of the Center for Regional and Tribal Child Welfare (218) 726-7221 pday@d.umn.edu
View the inaugural issue http://www.bemaadizing.org/
UMD Center for Indigenous Knowledge and Language Revitalization
Launches Academic On-line Journal
"Bemaadizing"
To Examine and Discuss the Many Facets of American Indian Life
The University of Minnesota Duluth (UMD) Center for Indigenous Knowledge and Language Revitalization (in the College of Education and Human Service Professions) has created an academic online journal, entitled "Bemaadizing: an Interdisciplinary Journal of Indigenous Life." The first issue of the biannual journal will be launched June 2. The title, "Bemaadizing", means "our life" in the Ojibwe language.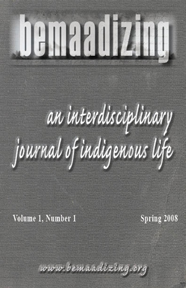 Structured to be highly interactive, the "Bemaadizing" journal will provide an academic forum for universities and colleges as well as professional groups and organizations working in the field of Native American studies. The aim of the publication is to explore and discuss the many facets of American Indian life and examine worldviews from various academic and professional disciplines and experiences.
Each edition of this non-refereed journal will highlight a different theme, featuring articles on issues of importance in Native communities. The articles will be written by invited scholars, tenured American Indian faculty, and seasoned practitioners from various academic and practice fields. Authors are encouraged to share their original research, stories, artwork and poems that increase the understandings of North American Indian-life ways through the lens of Native people.
Publishers of the journal will encourage their readers to participate in extensive discussion by submitting input and feedback. Reader observations will be reviewed by an on-line review board, and selected comments may be used to revise the articles for further publication in a refereed journal.
The inaugural issue of the journal features five articles on the theme "The Place of Indigenous Scholarship in Preserving Native Life." The articles provide important insights into the kind of outreach and scholarship that is being done by American Indians in academia in Native communities.
The list of distinguished authors for inaugural issue include:
Priscilla A. Day, editor of the journal, UMD professor and director of the Center for Regional and Tribal Child Welfare, UMD Department of Social Work
Donald R. Day, President of Fond du Lac Tribal and Community College
Linda LeGarde Grover, assistant professor, UMD Department of American Indian Studies
Brian Waabishki-makwa McInnes, instructor, UMD Department of Education
Trevor Swoverland, employee, UMD Center for Regional and Tribal Child Welfare Studies
Erin Geary, community program specialist, UMD Center for Regional and Tribal Child Welfare Studies
Anne E. Tellett, assistant professor, UMD Department of Social Work.
The inaugural issue of "Bemaadizing: an Interdisciplinary Journal of Indigenous Life" is available on-line at: