UMD held groundbreaking ceremonies today for the $15 million Civil Engineering building to be constructed on the North East corner of the campus just off St Marie Street. The state-of-the-art teaching/training center is designed to house the new Bachelor of Science degree program in Civil Engineering which will admit its first freshman students this fall. The structure will be the 6th new building to be constructed on the UMD campus since 2000.
UMD Chancellor Kathryn A. Martin said, "The enormous potential of UMD's new Civil Engineering program, along with this magnificent new building designed to house it, cannot be overestimated. The demand for civil engineers in our area and our state is strong and growing stronger. And the field of Civil Engineering, with its emphasis on sustainability and environmental quality, will help lead our state, as well as our nation and our world, into a cleaner and safer 21st century."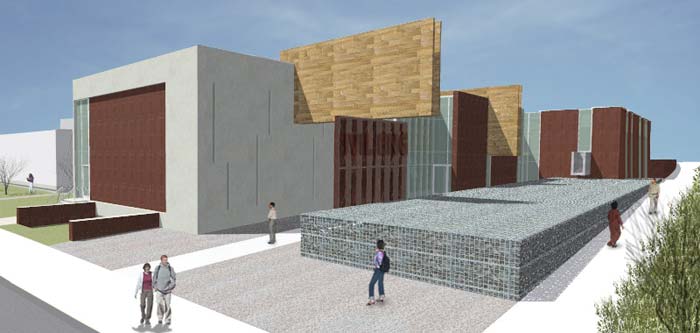 The 34,000 gross square foot, two-story building will adjoin Voss Kovach Hall (home of the Mechanical Engineering and Industrial Engineering programs) and will house sophisticated, specialized teaching and research laboratories as well as classrooms and administrative offices.
Of the six total laboratories, two will be very large--reaching two-stories high with full glass walls providing "Engineering on Display" from hallways as well as the outside. These "large labs" will showcase to viewers what civil engineers actually do and will provide a whole new look to the North East end of the campus.
One of the "large labs" will feature a large flume (water flow channel) with heavy volumes of water supplied by recycled run-off from the building's roof scuppers. The second "large lab" will showcase structural engineering with two 15-ton hydraulic cranes lifting large sections of concrete and other structural elements for evaluation and testing. All six laboratories will provide essential hands-on student learning experiences.
Set for completion in time for September 2010 fall classes, the building is designed to be a LEED certified "green building". LEED stands for Leadership in Energy and Environmental Design, a rating system established by the U.S. Green Building Council. LEED certification is a rigorous process that evaluates the environmental sustainability of building design, construction and operation.
The LEED checklist concerns five major areas:
Sustainable Sites
Water Efficiency
Energy and Atmosphere
Materials and Resources
Indoor Environmental Quality
The Duluth architectural firm SJA (formerly Stanius Johnson) is the lead architect for the project. Ross Barney Associates of Chicago is the design architect. The two firms collaborated on the $33 million UMD James I. Swenson Science Building opened in September 2005.
Funding for the building was provided by the Minnesota Legislature which approved a $10 million capital bonding request this spring. UMD benefactor and 1959 graduate, James I. Swenson (Swenson Family Foundation) donated $3 million. An additional $2 million was provided by university funds.
ABOUT THE UMD CIVIL ENGINEERING PROGRAM:
According to Swenson College of Science and Engineering Dean James P. Riehl, the development of the Civil Engineering Program at UMD is in direct response to engineering personnel needs expressed by the private and public sectors in our region, and the career aspirations of prospective students and their parents. Areas of focus were determined after consultation with engineering and manufacturing firms in Duluth and Greater Northeastern Minnesota.
The new program will emphasize the fields of:
Water resource engineering
Transportation engineering
Structural engineering
Geotechnical engineering (including mining)
"We intend to graduate civil engineers who have the skills and experience that employers are seeking, and who are prepared to meet the future needs of regional and statewide government agencies and industrial firms," said Dean Riehl. "Our students will be poised to contribute to the development of sustainable solutions to the pressing problems that impact our communities."
Engineering enrollment at UMD is now more than 800. "We expect to have over 1,000 engineering students by the year 2012," predicts Professor Stanley Burns, Associate Dean of the Swenson College of Science and Engineering. Professor Burns is responsible for coordinating curricula, accreditation and other issues for the expanding engineering programs.
Engineering programs were begun at UMD in 1984, and currently include four (soon to be five) degrees:
Chemical Engineering
Electrical and Computer Engineering
Industrial Engineering
Mechanical Engineering
With the initial Civil Engineering freshman class starting in the fall 2008, the first class will graduate in May 2012. At full admission, the program will have approximately 200 students.
Professor Andrea Schokker has been hired as department head. Professor Schokker comes from Penn State and has a national reputation in the field of Civil Engineering with expertise in concrete and structures. She will assume her duties at UMD in August.
Professor Carlos Carranza-Torres has also been hired as a faculty member in the program. He has most recently been an international industry consultant with expertise in mining and geotechnical engineering.
Professor Eil Kwon, Director of the Northland Advanced Transportation Systems Research Laboratory (NATSRL) at UMD, will teach transportation related courses in the program.
UMD plans to hire an additional six Civil Engineering faculty over the next three years.