Communication Associate: Public Relations
| Lori Melton |
lmelton@d.umn.edu
| (218) 726-8830
---
July 1, 2008
Susan Beasy Latto, Director, UMD Public Relations (218) 726-8830 slatto@d.umn.edu
For more information:
http://www.forbes.com/2008/05/12/google-android-apple-tech-cx_ew_0512android.html
http://digg.com/gadgets/How_Android_Will_Change_Your_Shopping_Experience_Forever
A quick 3-minute video showing Jeff Sharkey's application: http://scan.jsharkey.org/
UMD Graduate and Esko Native Wins
Prestigious Software Design Award from Google---$25,000

Featured in Forbes Magazine – Advances to Final Competition
University of Minnesota Duluth (UMD) alumnus and Esko, Minnesota native, Jeffrey Sharkey's software application has been selected as one of the top 50 applications in Google's prestigious Android Developer Challenge. Sharkey was awarded a $25,000 cash prize and a place in the Challenge's second round for his "AndroidScan" bar-code scanning program.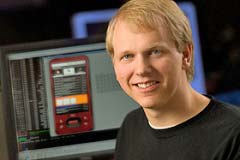 Sharkey is a 2006 graduate of the UMD Swenson College of Science and Engineering.
The Android Developer Challenge is a contest designed to get software developers working on programs for Android, Google's soon-to-be released cell phone operating system.
Sharkey's "AndroidScan" application is developed to find pricing and metadata for anything with a barcode. The application uses phone cameras to read the barcode of a product, and through the phone's internet connection it allows users to:
- Get more information about the product
- Source detailed reviews
- Search online and offline stores for better prices
- Get directions to stores
- Preview cd's
- Check for books in local libraries.
Sharkey was one out of 1,800 developers that sent in applications for the Challenge. As one of the 50 first-round semi-finalists, he is now eligible to compete in the second round. Google will select the 20 second-round winners in late July, awarding 10 $100,000 prizes and 10 $275,000 prizes.
Since Google released the list of top entries, Jeff Sharkey's application has attracted national media attention, including articles in Forbes magazine and Digg.com, a popular news site.
Jeffrey Sharkey is currently completing his master's degree in computer science at Montana State University.