Communication Associate: Public Relations
| Lori Melton |
lmelton@d.umn.edu
| (218) 726-8830
---
January 25, 2008
Susan Beasy Latto, Director, UMD Public Relations 218 726-8830 slatto@d.umn.edu
Rep Tom Rukavina Receives UMD Distinguished Alumni Award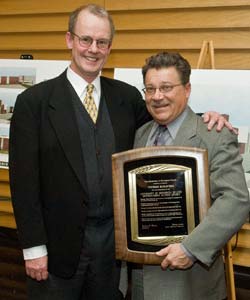 Rep Rukavina with UMD Vice Chancellor Greg Fox
Representative Tom Rukavina (DFL) was presented the University of Minnesota Duluth (UMD) Distinguished Alumni Award at a ceremony held January 23. He is a 1972 UMD graduate with a Bachelor of Arts degree in Political Science.
The award citied Representative Rukavina for:
His passionate service as a leading member of the House of Representatives
His selfless dedication and service to his Iron Range constituents
His endless support for higher education for all Minnesota students
His leadership in the establishment of the Iron Range Scholarship which annually provides hundreds of students the opportunity to attend college
A native of Virginia, Minnesota, he was first elected to the Minnesota House of Representatives in 1986 and is currently serving his 11th term.
Representative Rukavina serves as chair of the House Higher Education and Work Force Development Policy Committee and is a member of the Capital Investment Committee, Education Finance and Economic Competitiveness Committee, and the Finance Committee.