Communication Associate: Public Relations
| Lori Melton |
lmelton@d.umn.edu
| (218) 726-8830
---
April 18, 2008
Susan Beasy Latto, Director, UMD Public Relations (218) 726-8830 slatto@d.umn.edu
Eve A. Browning, Head, Department of Philosophy (218) 726-7850 ebrownin@d.umn.edu
UMD Honor Students Participate in

Regional Honors College Conference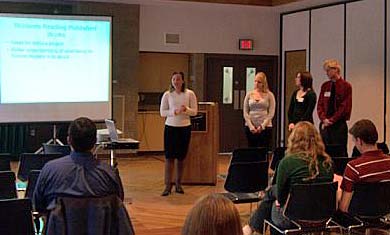 Five UMD Honors students were selected to make presentations at the Midwest Regional Honors Conference, held at the University of Wisconsin-Stout on April 3-5.
Angela Adolphs presented her Honors Capstone Project, entitled "Neuroscience in Visual Art", at a poster session.
Jenna Carlson, Stephanie Hooker, Jeff Dezelske and Lauren Peterson presented a panel, discussing the topic "Building Bridges in the Honors Community: Development of a Student-Produced Journal."
UMD faculty members from the School of Liberal Arts, David Beard (Department of Composition), and David Cole, and Eve Browning (Department of Philosophy) also attended the conference.