U.S. Congresswoman Betty McCollum will present a keynote speech, Monday, April 21 at 1:30 p.m. in the UMD Weber Music Hall. The lecture is presented by the Ben and Jean Overman Distinguished Speaker Series. Admission is free and the public is cordially invited.
Congresswoman McCollum will discuss current issues of importance occurring in Washington D.C. and topics of interest to the Northland. A question-and-answer time will follow the speech.
A public reception will be held immediately following.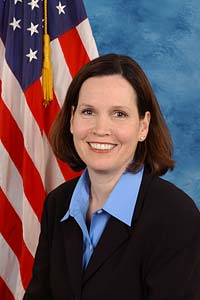 Betty McCollum is a Democrat serving her fourth term in Congress. In 2000 she made history as only the second Minnesota woman elected to Congress since statehood in 1858. In Washington D.C. McCollum serves the residents of St. Paul, as well as Ramsey County, northern Dakota County and western Washington County.
Throughout her public career, Betty McCollum has been a champion for excellence in education, protecting the environment, expanding health care access and fiscal responsibility. In Congress, she is also working to defend workers' rights and civil liberties at home, while ensuring human rights are protected around the world.
Prior to Congress, Betty McCollum served in the Minnesota House of Representatives from 1993 to 2000 and was elected Assistant Leader three times by her Democratic-Farmer-Labor Party colleagues. From 1987 to 1992, McCollum served on the North St. Paul City Council.
In addition to elected office, Betty McCollum's career has included teaching high school social science as well as 25 years in retail sales and management. McCollum is a graduate of the College of St. Catherine and the mother of two adult children.
Betty McCollum is a Minnesota native who grew up in South St. Paul, raised her family in North St. Paul and now lives in St. Paul.
about the
The Ben and Jeanne Overman Distinguished Speaker Series
The goal of The Ben and Jeanne Overman Distinguished Speaker Series is to demonstrate the interrelationship of achieving success while providing sustenance to other in return.
This was the principle on which Ben and Jeanne Overman built their lives. Ben came to Superior, Wisconsin from Russia when his father took work at a chair factory. His family lived in such poverty that it was necessary to heat their house with the coal dropped from trains. By the time he was 10, Ben was helping to support his family by selling newspapers. He became his family's primary provider, but still managed to find time to complete his schooling. Eventually Ben was able to learn the finance and real estate businesses, from which he later gained his greatest financial success.
Jeanne, too, grew up in poverty and began working at a young age. By the time she was a high school junior, she was working as a secretary at Diamond Tool company. Her excellent skills eventually earned her the position of executive secretary to Col. Henry, the longtime business manager of the Duluth Herald. She held this position for many years until she quit working to raise a family.
For 60 years, Jeanne and Ben built on their early successes and provided leadership to both the Twin Ports business and Jewish communities. Their efforts resulted in innumerable good deeds, among which was their donation of the original building to house (what is now) the Boys and Girls Club. Their good deeds are still with us today.
"The harder you work, the luckier you get."
-Ben Overman