Communication Associate: Public Relations
| Lori Melton |
lmelton@d.umn.edu
| (218) 726-8830
---
October 19, 2007
Susan Beasy Latto, Director, UMD Public Relations 218 726-8830 slatto@d.umn.edu
Cheng-Khee Chee, Associate Professor Emeritus, UMD College of Liberal Arts (218) 724-2554 cchee@d.umn.edu
Renowned Watercolorist and UMD Professor Emeritus

Cheng-Khee Chee

to Present at International Exhibit in China
UMD Associate Professor Emeritus and renowned watercolorist, Cheng-Khee Chee, will showcase his artwork, present lectures and give painting demonstrations at the First Invitational Exhibition of Contemporary International Watermedia Masters, to be held November 19-December 2, 2007 at the Nanjing Library Exhibition Hall in Nanjing, China. UMD alumnus and Duluth resident John Salminen was also selected to exhibit his work in the show.
Professor Chee's responsibilities for the exhibition also include the selection and coordination of works from 28 American and Canadian artists. A total of 68 artists from through out the world have been invited to participate in the inaugural exhibit. The Jiangsu Watercolor Research Institute is hosting the international event.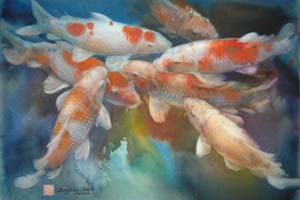 Koi by Cheng-Khee Chee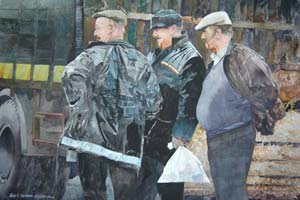 Three Farmers by John Salminen
Cheng-Khee Chee, who resides in Duluth, is a signature member of the American Watercolor Society (Dolphin Fellow), National Watercolor Society, Watercolor USA Honor Society, Transparent Watercolor Society of America (Master Watercolorist) and several others. He is listed in Who's Who in America, Who's Who in American Art and Dictionary of World Chinese Artists Achievements.
Mr. Chee has been represented in numerous national juried exhibitions and captured over 200 honors, including the American Watercolor Society Silver Medal, Transparent Watercolor of America First Prize, Allied Artists of America Gold Medal, and Knickerbockers Artists USA Grand Award Gold Medal and Purchase Prize for Excellence.
Professor Chee has recently published a 2008 calendar, entitled "Birds of Promise", which features 14 of his newest bird paintings. The calendar is funded by the North Shore Bank of Duluth and will be used for fundraising for "Program of Promise", a local charity that provides help to at risk children in the area.