Communication Associate: Public Relations
| Lori Melton |
lmelton@d.umn.edu
| (218) 726-8830
---
May 14, 2007
Susan Beasy Latto, Director, UMD Public Relations (218) 726-8830 slatto@d.umn.edu
Public Invited to Tour Great Lakes Maritime Academy Training Vessel
May 21 and 22
NOTE TO EDITORS & INTERESTED PARTIES: The T/S State of Michigan will be docked at the Duluth Entertainment and Convention Center Dock, 350 Harbor Drive, from approximately 6 a.m. Monday, May 21, to 2 p.m. Tuesday, May 22.
The Great Lakes Maritime Research Institute (GLMRI), a consortium of the University of Minnesota Duluth (UMD) and the University of Wisconsin-Superior (UW-S), along with the Great Lakes Maritime Academy (GLMA) invite members of the community to tour the T/S State of Michigan. The GLMA training vessel will be arriving in the Twin Ports at approximately 6 a.m. on Monday, May 21. The ship will dock at the Duluth Arena Dock, located behind the DECC, next to the Vista Fleet, and is expected to be open for tours between 1 p.m. and 3 p.m., Monday, May 21.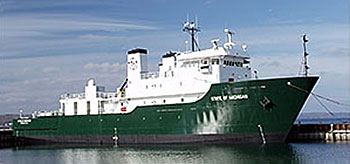 The Great Lakes Maritime Academy trains men and women to serve as business professionals and Merchant Marine officers aboard Great Lakes and ocean ships. Located in Traverse City, MI, the school is designated as a regional maritime academy and the nations only freshwater academy. Upon graduation, GLMA mariners are qualified to sail the Great Lakes or oceans and are awarded both a Bachelor's Degree in Business Administration and an Associate's in Maritime Technology. This dual degree combination offers employers the finest maritime personnel, who are also fully compliant with STCW 95 standards.
GLMRI is a joint project between UW-S and UMD, established to pursue research efforts in marine transportation, logistics, economics, engineering, environmental planning and port management. The Great Lakes Maritime Academy is a research affiliate university of the GLMRI.
CONTACTS:
Stacey Carlson, Associate Researcher
Great Lakes Maritime Research Institute
715-394-8364, scarlso3@uwsuper.edu
Carol Wolosz, Assistant Director
Great Lakes Maritime Research Institute
218-726-7446, cwolosz@d.umn.edu or info@glmri.org