Three students from the UMD Labovitz School of Business and Economics (LSBE) have been named The Business Strategy Game 2006 Season II Best Strategy Invitational Grand Champions.
The UMD team won over a field of 6,500 other teams from throughout the world (directed by over one thousand professors). UMD Adjunct Professor David F. Hayden led the three students as part of a UMD LSBE Business Strategy class.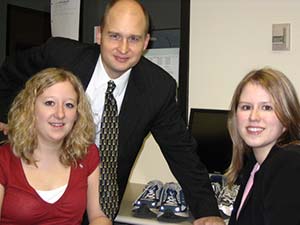 The student winners are LSBE seniors:
Terrance Thompson, marketing major from Duluth, Minnesota
Jackie Claseman, marketing major from Saint Cloud, Minnesota
Sarah Fockler, health care management major from Woodbury, Minnesota
The Business Strategy Game is a completely online exercise where teams of students run an athletic footwear company in head-to-head competition against companies run by other class members. Company operations parallel those of actual athletic footwear companies. Just as in the real world, companies compete in a global market arena, selling branded and private-label athletic footwear in four geographic regions -- Europe, Africa, North America, Asia-Pacific, and Latin America.
The Business Strategy Game student participants gain experience and practice in assessing business risk, analyzing industry and competitive conditions, making decisions from a companywide perspective, thinking strategically about a company's market position and the kinds of actions it will take to improve it, developing strategies and revising them in light of changing conditions, and applying what they have learned in business school.
The Business Strategy Game 2006 Season II Best Strategy Invitational Grand Champions are inducted into the Hall of Fame. Listed there are some of the best teams ever to have managed a BSG-Online company, their names etched on the coveted "Silver Sneaker Trophy".
Student winner Terrence Thompson said of the experience, "I was impressed with the scope of the simulation. Decisions had to be made that impact so many different levels of an organization. It really drew on the full range of lessons learned from classes that I took here at UMD. I also really want to thank my employer, Merrill Lynch, where I work as a senior associate. Their tuition assistance program is a great help with achieving a business degree at UMD."
"I thought that the Business Strategy Game was a great team-building experience," said team member Sarah Fockler. "My team members and I had similar high goals set that allowed us to work together smoothly with no difficulties. The BSG Invitational challenged us to make decisions that would keep us several steps ahead of the competition. Overall it was a great experience and I'm glad we had the chance to participate."
Team member Jackie Claseman said, "The Business Strategy Game was a great experience. It brought real life experiences to further my knowledge about the business world. My group partners and I had to create a business strategy that could be flexible enough to with stand all the challenges that could/would come with the game. Overall this was a great experience that will help me with my career."
For additional information on this project see http://www.bsg-online.com/