The DTA's U-PASS Program at UMD, which began in September of 2000, surpassed the 2 million rider milestone Thursday, February 1, when freshman Sarah Kryjeski of St. Paul swiped her U-Card on the #11 - East 8th Street / UMD bus at 2:25 p.m.
Sarah was awarded gift certificates for UMD Stores and UMD Food Services. Sarah lives on campus and doesn't have a car. She uses the DTA for everything - work, shopping and entertainment. She works three days a week at Nettleton Magnet School's after school program. Sarah, who is studying chemistry, says the U-PASS Program at UMD was a big factor in her going to school in Duluth.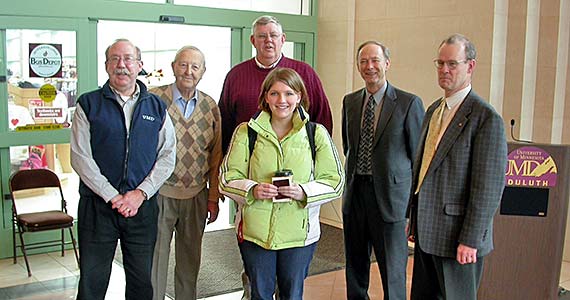 Foreground: Sarah Kryjeski (UMD freshman); Back row left to right: John M. Brostrom (UMD Auxiliary Services), retired Federal Judge Gerald Heaney, Joe Michela (UMD Auxiliary Services), DTA General Manager Dennis Jensen, and Greg Fox (UMD Vice Chancellor)
U-PASS ridership at UMD has increased every year since 2000 and has accounted for 11 percent of the DTA's over-all ridership of 17,860,872 during the same time period. However, during fall and spring semesters when school is in session, U-PASS ridership at UMD accounts for 15-20 percent of DTA's system-wide ridership.
Prior to the U-PASS Program, UMD ridership averaged just 4,000 a month. UMD ridership today tops the 4,000 rider mark in only 2 days. The monthly average for last semester (Fall 2006) was more than 42,000 per month.
The U-PASS Program was introduced in Fall Semester of 2000 as an innovative partnership between UMD and the DTA to encourage greater use of public transportation on campus by providing unlimited rides for students, faculty and staff and building on-campus transit hub.
The U-PASS Program was designed to reduce on-campus traffic and address the construction related reduction of campus parking.
Since 2000, when the U-PASS Program was instituted, UMD has experienced a phenomenal 23 percent increase in enrollment. UMD enrollment is now at an all time high with 11,190 students. The U-PASS Program has been very instrumental in accommodating the transportation needs of this increased enrollment.
The unlimited-ride U-PASS arrangement with UMD was a prerequisite by the DTA for establishing a transit hub on campus, which opened in December of 2004. The Kirby Plaza transit hub construction was funded primarily by federal grant monies the DTA received in 1999 and 2000.
The Kirby Plaza Transit Hub is bustling with activity these days with four major bus routes serving the campus: Route #6 - Mainline/UMD; Route #11- East 8th Street/UMD/Morley Heights; Route #12 - Kenwood/UMD; and Route #13 - East Fourth Street/UMD/Woodland.
The Kirby Plaza Transit Hub has a spacious passenger waiting lobby and three route-specific bus shelters equipped with electronic signs that operate with a GPS-based "Intelligent Transportation System" and provide "real-time" bus departure times. The Transit Hub also includes indoor and outdoor seating for riders, route and schedule informational displays, an extended canopy, and highly illuminated bus stop and bus staging areas.
Since 2000, the DTA has developed a number of inter-lined bus routes that provide "one-seat rides" to and from the UMD campus from New Duluth, Lincoln Park, West Duluth, Morgan Park, Gary, Proctor and Piedmont. The DTA also provides direct service to and from UMD from East Hillside, Woodland, Morley Heights and Kenwood neighborhoods. UMD riders in Lakeside, Duluth Heights, West Fourth Boulevard, Park Point and Superior, WI make connections to one of four routes serving the UMD campus at established transfer points or in downtown Duluth.
The DTA and UMD are contractually committed to continue the U-PASS Program through spring semester 2011.
Lake Superior College and the College of St. Scholastica are also onboard the DTA's U-PASS Program. Ridership at these colleges continues to grow, but on a smaller scale than at UMD.