Projected Total Enrollment is 10,700
Freshmen Enrollment Projected at 2,225
87% of freshmen to Live on Campus
Total of 3,020 Students to Live on Campus
13th Annual "UMD Bulldog Bash" Welcome Week Activities
Run August 31 – September 8
University of Minnesota Duluth (UMD) "New Student Move-In Days 2007" are set for Friday, August 31 (11 a.m. to 3 p.m.) and Saturday, September 1 (10 a.m. to 2 p.m.), filling the campus with students, parents, grandparents, and siblings as well as food, music, fun and campus orientation activities. Unloading of vehicles will take place at Lake Superior Hall and Griggs Hall. Food tents will be set up near "Griggs Beach" (behind Lake Superior Hall.)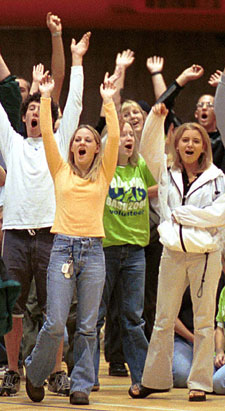 Projected freshmen enrollment at UMD this year is 2,225 with 87% of freshman living on campus. Projected total enrollment is estimated at 10,700 students (up from 10,400 last year). Projected total of new students is 2,700 (which includes 2,225 freshmen and 475 new transfer students).
This year marks the 13th annual "UMD Bulldog Bash" Welcome Week (August 31-September 8) and "Chancellor's Welcome Team" activities. UMD Chancellor Kathryn A. Martin, along with vice chancellors, deans, professors and staff, will be on hand to meet, greet and welcome students and their families as students move into their campus residence halls on Friday and Saturday.
As the "Chancellor's Welcome Team" greets parents, answers questions and visits with students, all will be wearing special Chancellor's Welcome Team t-shirts. Over 150 student volunteers from a variety of campus organizations will also be on hand to assist students and their families. The volunteers will "fetch and tote" helping with moving chores and providing information on student clubs and activities.
"New Student Move-in Days" kicks off "Bulldog Bash 2007" (August 31- September 8), a 9-day series of campus events ranging from convocations and advisement, to scavenger hunts and cookouts.
For a complete schedule of "Bulldog Bash 2007" events please see
http://www.d.umn.edu/fye/freshmen/bash/
UMD Geographic Hotspots
Over 45% of UMD's new entering freshmen for Fall 2007 are from the seven-county metropolitan area surrounding Minneapolis/St Paul, with notable increases from several parts of the non-metro area as well. UMD continues to draw 10% of our new students from Wisconsin, with increased numbers from other states as well.