Communication Associate: Public Relations
| Lori Melton |
lmelton@d.umn.edu
| (218) 726-8830
---
August 3, 2007
Susan Beasy Latto, Director, UMD Public Relations (218) 726-8830 slatto@d.umn.edu
Thomas C. Johnson, Professor, UMD Large Lakes Observatory and Department of Geological Sciences (218) 726-8128 tcj@d.umn.edu
UMD Professor's Article on Greenhouse Gas Emissions
Published in Nature Magazine
A recent article by UMD Large Lakes Observatory (LLO) professor Thomas C. Johnson and former UMD postdoctoral researcher Simone Alin, summarizing carbon burial in the large lakes of the world, was highlighted in the July 26 issue of the prestigious "Nature" magazine, an international weekly science journal.
For the article Professor Johnson and Alin gathered data generated by LLO researchers and also from published articles and reports from 41 great lakes around the world.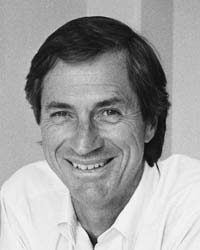 Professor Thomas C. Johnson
Professor Johnson said, "The amount of carbon buried in lakes each year is astoundingly high. It is approximately half of what is buried in the world's oceans (even though lakes make up an area of only 0.4% of the Earth's ocean area). Thus, lakes have a considerable beneficial impact on carbon (greenhouse gas) emissions to the atmosphere, and they become important reservoirs for hydrocarbons. Approximately 20% of our oil and natural gas is derived from ancient lake basins."
Professor Johnson teaches in the UMD Department of Geological Sciences and does extensive research on large lakes of the world. Simone Alin, a former LLO postdoctoral researcher, currently works for the National Oceanic and Atmospheric Administration (NOAA) in Seattle, Washington.
The following is taken from the July 26 NATURE magazine:
Earth sciences: Carbon lost from lakes
Global Biogeochem. Cycles 21, GB3002 (2007)
An assessment of the carbon cycles of 41 lakes on five continents has put new global numbers on lakes' contribution to carbon in the atmosphere. The lakes' net carbon emission, at around 86 million tonnes, is roughly equivalent to Spain's annual carbon emissions.
Simone Alin of the University of Washington in Seattle and Thomas Johnson of the University of Minnesota in Duluth compiled available data for primary production, carbon burial and lake-atmosphere gas exchange for lakes (including Lake Malawi, pictured) representing more than two-thirds of the world's total volume of freshwater and saline lakes.
Overall, the lakes lose an order of magnitude more carbon to the atmosphere than they remove through burial of sediments.