Enhanced Complex Contains Northern Minnesota's Largest and Most Comprehensive Athletic and Recreational Facilities
Chancellor Kathryn A. Martin kicked-off 11 a.m. ceremonies today celebrating the grand opening of the new $12.4 million UMD Sports and Health Center Addition. Activities throughout the day included guided tours, fitness classes/demonstrations, and free hotdogs, fruit and veggie burgers. The enhanced complex contains northern Minnesota's largest and most comprehensive athletic and recreational facilities.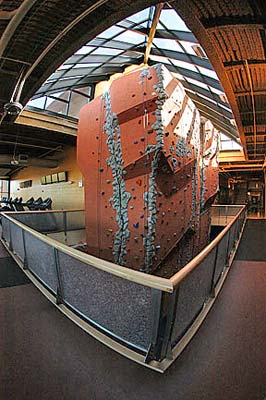 The brand new 46,000 square foot facility features the very latest in state-of-the-art strengthening, toning and fitness equipment of all types, according to Mick McComber, Director of UMD Recreational Sports Outdoor Program. He said, "Student demand for recreational and fitness activities has grown sharply through the years. With our new expanded facilities, UMD is now able to provide these healthy life-style activities to our students, faculty and staff."
In recent years, statistics show that approximately 90% of UMD students have participated in exercise and fitness, as well as some 450 faculty/staff. But waiting lines were very long, sometimes hours. McComber estimates that approximately 1,500 people will use the new facilities each day. "Perhaps even much more than that," he added.
The beautiful two-story addition contains:
two group exercise rooms for core training, aerobics, student group classes, yoga, and the Kinesis System (described as a revolutionary core training device designed to enhance the muscular/skeletal system for activities of daily living--ADL).

a 37-foot colorful climbing wall featuring the latest in climbing trends including a "bouldering component" - recreational gymnasium containing multi-purpose flooring which allows a wide variety of open, informal recreational activities such as basketball, volleyball, badminton, and in-line skating.

a two-level fitness center featuring 65 pieces of cardio machines (more than three times the former amount), as well as tread mills, elliptical machines, upright and recumbent bikes, and various forms of weight machines. The fitness center also includes a "cardio theater" (cable TV with wireless audio which users may plug into their headsets). Users may also bring their own ipod. The UMD Recreational Sports Outdoor Program also plans to soon have its own cable network through which they will promote upcoming department programs and offerings, fitness trips, and protocol requirements for using the facility.
The UMD Department of Athletics occupies 10,000 square feet of the new addition. This is four times the size of their old space (which was 2,400 square feet). The space will be used for team training for all UMD sports-everything from tennis to football- and allows athletes to train both in and off-season. The strength and conditioning coaching staff also have offices there.
The new addition is designed to coordinate well with UMD's existing facilities, making it a fully functioning Sports and Health Center Complex. The complex includes swimming pool, Romano Gymnasium, Olympic size ice rink, sports medicine facilities, classrooms, meeting rooms, locker rooms for students, faculty, staff, and intercollegiate teams, Ward Wells Field House, Malosky Field/Griggs Stadium.
Hours of operation are:
Monday through Friday, 6:15 a.m. to midnight
Saturdays, 9 a.m. to 6 p.m.
Sundays, 12 noon to 9 p.m.
Funding
Total cost of the project is $12.4 million.
In the spring of 2001 UMD students voted to contribute $4 million toward the Sports and Health Center Addition by authorizing a $50 increase in their annual student fees. The Minnesota Legislature then authorized $8.4 million in the spring of 2005. A ground-breaking ceremony for the new addition was held May 3, 2005.