Four Star General Bruce Carlson, a 1971 UMD graduate and a "Distinguished Graduate" of the UMD Air Force ROTC Program will visit the UMD campus on November 2 and 3 speaking to ROTC cadets, faculty and staff.
General Carlson will be presented the UMD Distinguished Alumni Award at a dinner in his honor November 2 in the Greysolon Plaza Ballroom. A Hibbing, Minnesota native, he currently serves as Commander, Air Force Materiel Command (AFMC), Wright-Patterson AFB, Ohio. AFMC conducts research, development, test and evaluation, and provides acquisition management services and logistics support necessary to keep Air Force weapon systems in readiness.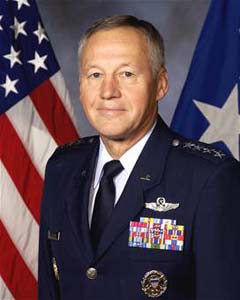 An experienced pilot, General Carlson, is a command pilot with more than 3,000 flying hours. He has held various assignments in flying units, including positions at Tactical Air Command, U.S. Air Force Headquarters as well as the offices of the Secretary of the Air Force and Secretary of Defense. He is a former Commander of the Air Force's 49th Stealth Fighter Wing and is experienced in multiple aircraft weapons system.
General Carlson will be the guest speaker at the November 2 UMD Air Force ROTC Fall Banquet, beginning at 6 p.m. At 8 p.m. the General will address over 150 attendees, including current AFROTC cadets, their families, university officials, and other guests. After the General's concluding remarks, University of Minnesota Regent Anthony Baraga will present General Carlson with the UMD Distinguished Alumni award.
At the conclusion of his remarks, General Carlson will be available for brief interviews. For entrance into the event, media must contact Captain Eric Fraser at (218) 726-8223 in advance.
General Carlson will spend Friday at UMD meeting with students and cadets from the AFROTC program, touring the campus, and attending a luncheon with UMD officials.
The Air Force ROTC program has been part of the UMD campus for over 55 years. ROTC provides leadership training and education to prepare students to be commissioned as Air Force officers. The program currently has over 50 students from UMD, UW Superior, the College of St. Scholastica, and Lake Superior College. Each year the AFROTC Detachment in Duluth commissions cadets as second lieutenants to serve in the United States Air Force.