Communication Associate: Public Relations
| Lori Melton |
lmelton@d.umn.edu
| (218) 726-8830
---
May 8, 2006
Susan Beasy Latto, Director, UMD Public Relations 218 726-8830 slatto@d.umn.edu
Leigh Cunningham, National Academic Advising Association 785-532-5717, nacada@ksu.edu
See NACADA web page at http://www.nacada.ksu.edu/Awards/
UMD Professor Receives Outstanding Advising Award
from National Academic Advising Association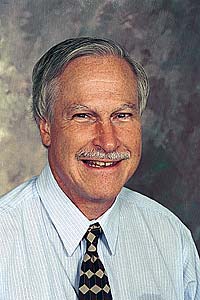 Douglas Dunham, Computer Science professor, in the College of Science and Engineering at the University of Minnesota Duluth, has been selected as an Outstanding Advising Certificate of Merit recipient in the Faculty Academic Advising category from the National Academic Advising Association (NACADA) as part of the 2006 National Awards Program for Academic Advising.
This award is presented to individuals who have demonstrated qualities associated with outstanding academic advising of students or outstanding academic advising administration. The Faculty Academic Advising category includes those individuals whose primary responsibility is teaching and who spend a portion of their time providing academic advising services to students. Dunham is one of seventeen (17) faculty advisors honored with this award in this category in nation-wide competition this year.
Each year since 1983, NACADA has honored individuals and institutions making significant contributions to the improvement of academic advising. The goal of NACADA is to promote quality academic advising and professional development of its membership to enhance the educational development of students.
The 9,000 NACADA members consist of faculty, professional advisors, administrators, counselors, and others in academic and student affairs concerned with the intellectual, personal, and vocational needs of students. In addition, NACADA is the representative and advocate of academic advising and those providing that service to higher education.
Professor Dunham will be honored and presented with this award in Indianapolis, Indiana during the annual NACADA National Conference in October.