Masters of Advocacy and Political Leadership Program
Is One of Few in the Country
Among those receiving degrees at UMD Graduate Commencement ceremonies at 7 p.m. on Thursday, May 11 will be the first graduating class of the UMD Masters of Advocacy and Political Leadership (MAPL) Program. This first cohort class consists of 13 working adults from the Twin Cities, Duluth, and the Iron Range.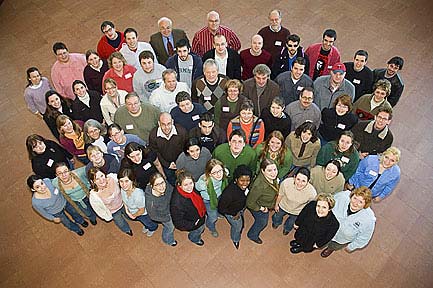 Begun at UMD fall semester 2004, this unique program is one of a very few of its kind in the United States. There are no other programs of this type in Minnesota.
The program is based on the cohort model in which a student group takes a core of MAPL courses moving together through the two-year program. The weekend program offers courses providing practical political advocacy experience and information through internships and teaching by knowledgeable faculty and guest speakers.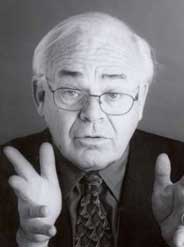 Wy Spano
The program is the brainchild of WY Spano, well-known Minnesota political analyst and lobbyist. He was co-founder and long-time publisher of the prominent newsletter, "Politics in Minnesota". Mr. Spano is a sought-after media spokesperson, speaking and writing about Minnesota politics for both state and national media. He is a frequent guest columnist for the Minneapolis Star Tribune, and a regular commentator on Almanac, Twin Cities Public Television's popular weekly news show.
Spano's definition of "politics" is "how we care for each other." He says, "Conducting politics is the way a community is a community. Thus the MAPL program at UMD seeks to create a professional group of ethically-grounded advocates and organizers working to achieve and maintain high standards for government and for society."
The popular UMD campus-based MAPL program is attracting students from throughout the Midwest. Currently, half of the MAPL student population is from the Twin Cities metropolitan area. Others, not in the Twin Ports area, originate from Rochester, St. Cloud, and Grand Rapids. Recent applicants have come from Wyoming, Illinois, and Iowa. As of spring semester 2006, MAPL has accepted 61 students in four separate cohort groups.
Two students among those graduating at May 11 ceremonies are:
Ida Rukavina, daughter of Minnesota Representative Tom Rukavina. Ida has been a strong advocate of union rights and has continued to work as a staff representative for AFSCME Council 65 in St. Cloud throughout her MAPL education.
Matthew Wohlman, Legislative Assistant to Minnesota State Senator Yvonne Prettner Solon. Matthew has a B.S. degree in animal production systems from the U of M, and formerly interned for U.S. Senator Mark Dayton on agricultural and environmental issues.
Wy Spano has a bachelors and masters degree in political science, and is currently working on his Ph.D. He is writing a biography of the late Senator Paul Wellstone commissioned by the Minnesota Historical Society.
MAPL students, faculty, guest speakers, committee members, and community advocates will gather to celebrate and honor the 2006 MAPL graduating class at a special luncheon at 12 noon on Friday, May 12. in the Kirby Student Center, 3rd floor ballroom. U.S. Senator Mark Dayton will be the guest speaker.