7 p.m.
UMD Romano Gym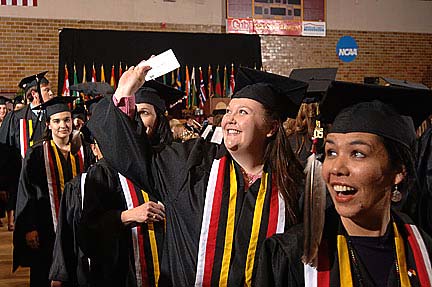 UMD graduate student commencement ceremonies are set for Thursday, May 11 at 7 p.m. in the UMD Romano Gym. Over 175 students will be awarded advanced degrees.
Among those receiving degrees will be the first graduating class of the UMD Masters of Advocacy and Political Leadership (MAPL) Program. This first cohort class consists of 13 working adults from the Twin Cities area, Duluth, and the Iron Range. Begun at UMD in 2004, the unique program is one of a very few of its kind in the United States. There are no other programs of this type in Minnesota.
The MAPL Program is the brain-child of WY Spano, well-known Minnesota political analyst and lobbyist. Mr. Spano has been a consistent news source on Minnesota politics for both state and national media, and has been quoted in major newspapers across the country. He is a frequent commentator on Almanac, Twin Cities Public Television's popular weekly news show.
Note: For more information on the MAPL Program, please see the May 3, 2006 news release featuring Wy Spano and the program.
Featured speaker for the graduate commencement event will be Dennis Falk, UMD Professor of Social Work, and Director of the UMD Center for Regional and Tribal Child Welfare Studies. This spring Professor Falk was presented the Award for Outstanding Contributions to Graduate and Professional Education by the University of Minnesota. This honor is awarded to "exceptional candidates system-wide nominated by collegiate units in their quest to identify excellence in undergraduate education."
Dennis Falk received a Ph.D, in Educational Psychology at the University of Minnesota and taught on the Twin Cities and Morris campuses prior to coming to Duluth. He has primarily taught courses on human behavior and advanced social research in the Masters of Social Work Program at UMD for the past 28 years, but has also taught an additional six graduate courses and 12 undergraduate courses during that time.
In his role as Director of the UMD Center for Regional and Tribal Child Welfare Studies, Professor Falk has been the Principal Investigator for Title IV-E Child Welfare Educational Project contracts which have brought over $8,000,000 to UMD, and which provide student stipends and educational programming and support.
Dr. Falk's research interests include instructional technology, domestic violence, global awareness, and the evaluation of education and human service programs; and he has written one book and over 40 articles and reports on these topics. His University service activities include serving as Director of Graduate Studies, Acting Department Head, and Director of the UMD Study in England Program. His community service includes serving on many boards and committees and consulting on the evaluation of over 20 human service agencies.