Two Honorary Degrees to be Awarded to
Jim Brandenburg
and
Harry Oden
UMD Baccalaureate Commencement Ceremony is set for Saturday, May 13 at 12 noon at the Duluth Entertainment and Convention Center (DECC). Over 1,000 graduates will march, along with over 100 UMD faculty members, making this one of UMD's largest commencement ceremonies ever.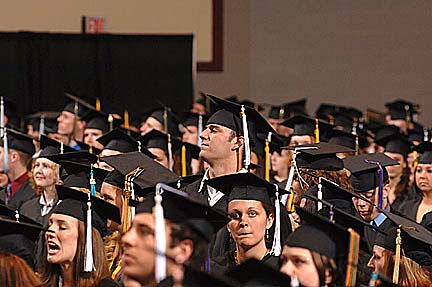 During the ceremony, two honorary degrees will be presented by UMD Chancellor Kathryn A. Martin and Dr. Anthony Baraga, chair, U of M Board of Regents. An honorary Doctor of Humane Letters will be awarded to world-famous nature photographer and filmmaker, Jim Brandenburg; and an honorary Doctor of Laws degree for public service will be given to youth worker and education leader, and 1964 UMD graduate, Harry Oden.
The honorary degrees are the highest awards conferred by the University of Minnesota, recognizing individuals who have achieved acknowledged eminence in cultural affairs, in public service, or in a field of knowledge and scholarship.
"UMD is very proud to present these well-deserved honors to Jim Brandenburg and to Harry Oden," said UMD Chancellor Kathryn A. Martin. "Their respective work has added significant value and enrichment to the lives of many. Each has used his talents to impart dignity and beauty to our world."
Mr. Brandenburg and Mr. Oden will each present acceptance remarks.
Student speaker will be Matthew Frost, a magna cum laude honors graduate in the College of Science and Engineering, from Corcoran Minnesota.
Short Bio of Harry Oden:
Harry Oden is a compassionate educator and humanitarian who has been a tireless advocate for hundreds of students to reach educational goals they never dreamed were possible. He has inspired students across the country to give back to their communities.
An Alabama native, Harry Oden grew up in Milwaukee, Wisconsin, where he attended the public schools and excelled as an athlete. On the urging of his high school coach, he came to UMD in 1959 to play basketball. While Mr. Oden did excel on the court, earning him a spot in the UMD Athletic Hall of Fame in 1997, his contributions off the court have had a profound impact on the diversity of the student body at UMD.
Mr. Oden graduated from UMD in 1964 with a Bachelor of Science in History and in 1980 with a Master of Arts Degree in U.S. History/Educational Administration. For 35 years, he worked in the Milwaukee Public Schools in a variety of roles, from a history teacher to assistant principal and principal at several different schools. In addition to working full-time in the school district, he put in another 40-60 hours a week in the community, helping students achieve success at both the secondary level and at many higher education institutions around the country.
At UMD, he has personally nurtured hundreds of students to excel, a role he continues today after retirement. His devotion to education and community service inspired the establishment of the UMD Harry Oden Scholarship for minority and disabled students in 1994.
More than 125 students have received financial help, many over four years, from the endowed scholarship. In 1990, Mr. Oden received the UMD Distinguished Alumni Award and delivered the commencement address. Currently he is an educational consultant for various schools districts and is a motivational speaker for several organizations including the YMCA and Boys' and Girls' Club. Harry and his wife, Willa, live in Milwaukee.
Short Bio Of Jim Brandenburg:
Jim Brandenburg is one of America's premier wildlife photographers. A Minnesota native, he began his award-winning career as a natural history photographer and filmmaker while majoring in studio art at UMD.
As a UMD student, he traveled with Dr. Art Aufderheide, internationally known paleopathologist from the Duluth Medical School, to the Northwest Territories, where Brandenburg filmed the last group of Canadian Inuit people to live off the land. That trip began Brandenburg's lifelong journey as a photographer, from his early career as Pictures Editor at the Worthington Daily Globe newspaper in Southern Minnesota to freelancing for National Geographic magazine.
In 1978, he became a contract photographer for National Geographic, which resulted in 19 magazine stories, several television features, and more than 19 books. His current projects include two new books about the prairie and white animals.
His photographs have won many prestigious national and international awards. He was twice named "Magazine Photographer of the Year" by the National Press Photographer's Association, as well as "Kodak Wildlife Photographer of the Year" by the Natural History Museum-London and the BBC's Wildlife Magazine.
Mr. Brandenburg was a Hasselblad Master in 2002, a Nikon Legend behind the Lens in 2001 and is currently one of Canon's prestigious Explorer of Light photographers. In 1991, Brandenburg received the World Achievement Award from the United Nations Environmental Programme in Stockholm, Sweden, in recognition of his using nature photography to raise public awareness for the environment. In 1996, Mr. Brandenburg received the UMD Distinguished Alumni Award and delivered the commencement address.
He and his wife, Judy, have demonstrated a high commitment to conservation and preservation efforts through their support for the Trust for Public Land and Friends of the Boundary Waters. The nonprofit Brandenburg Prairie Foundation was established in 1999 to educate, promote, preserve and expand native prairie in southwestern Minnesota. The Brandenburgs live at "Ravenwood" near Ely, Minnesota.