Communication Associate: Public Relations
| Lori Melton |
lmelton@d.umn.edu
| (218) 726-8830
---
March 2, 2006
Susan Beasy Latto, Director, UMD Public Relations 218 726-8830 slatto@d.umn.edu
Maryann Soleim, Assoc. Director, UMD University Relations and Development 218 726-8993 msoleim@d.umn.edu
For more information see
UMD website http://www.d.umn.edu/unirel/homepage/06/overman.html
Ann Bancroft website http://www.yourexpedition.com/
Acclaimed Antarctic Explorer Ann Bancroft
to Speak at UMD
March 29
on "Skiing Antarctica's Landmass"
Bancroft and Liv Arnesen--First Women in History
to Ski Across Antarctica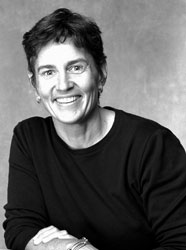 Ann Bancroft will tell her inspirational and motivational story titled "Skiing Antarctica's Landmass" at 4 p.m., Wednesday, March 29 in the Weber Music Hall on the campus of the University of Minnesota Duluth (UMD). The presentation is free and the public is cordially invited.
Bancroft will share her childhood dream and the culmination of that dream as she and Liv Arnesen became the first women in history to ski across Antarctica's landmass. The presentation is the inaugural Ben and Jeanne Overman Distinguished Speakers lecture, made possible by the Ben and Jeanne Overman Charitable Trust.
Beginning November 13, 2000, Bancroft and Arnesen skied and sailed across Antarctica for 94 days and 1,717 miles, pulling 250-pound sleds full of food and equipment, enduring temperatures as low as -30 degrees Fahrenheit and winds gusting up to 100 miles per hour. Historic still and video footage of Antarctica and Bancroft's amazing experiences will provide insights on subjects that challenge all of us on a daily basis.
Ann Bancroft and Liv Arnesen's new book, No Horizon Is So Far (Perseus Publishing, 2003), provides a detailed account of their journey across Antarctica.
Complimentary refreshments will be served.
For more information and for groups of ten or more please call:
Lisa at 218-726-7164 or Maryann 218-726-8993.