The UMD Labovitz School of Business and Economics (LSBE) has announced the establishment of a new department - the Department of Marketing. Formerly a part of the Management Studies Department, the new division will become a separate department on July 1, 2006. Associate Professor Praveen Aggarwal will be department head.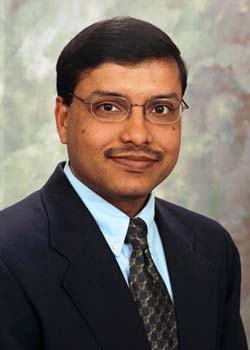 Associate Professor Praveen Aggarwal.
Marketing is the largest major at LSBE, growing rapidly from 68 majors in 1999, to 224 majors in the Fall 2005 semester.
The UMD marketing faculty offers teaching expertise in many areas including: sales management, pricing, promotions, new-product development, online consumption behavior, and consumer decision-making processes. The faculty is also heavily involved in graduate education, both at UMD and at the Rochester, Minnesota campus. The department will continue to work closely with the UMD Center for Economic Development (CED) on Student-to-Business Initiative projects; and student marketing teams will continue to provide consulting assistance to small businesses in the area. To date, student marketing teams have worked with over 100 small businesses.
Professor Aggarwal points out that, "The market place has become more and more competitive through the years. Organizations, companies, as well as non-profits, must market their products more aggressively and with more expertise than in the past." He adds, "The Marketing Department at LSBE will prepare students to use analytical and problem-solving skills so that they can help shape organizations to grow and succeed."
UMD management studies and marketing students have continued to find employment in a variety of organizations including large and small companies, non profits, and privately and publicly traded businesses. Graduates of the Department of Management Studies have been hired by such companies as: IBM, Best Buy, 3M, Enterprise Rent-A-Car, Federated Insurance, Kohls, Land's End, Phillip Morris, Target, UPS, Metlife, Hershey Foods, Medtronics, Wells Fargo, and Johnson & Johnson.