Communication Associate: Public Relations
| Lori Melton |
lmelton@d.umn.edu
| (218) 726-8830
---
July 26, 2006
Susan Beasy Latto, Director, UMD Public Relations 218 726-8830 slatto@d.umn.edu
...a profile of Sharon and Joel Labovitz
A 1949 graduate of UMD, Joel Labovitz is Chairman of Labovitz Enterprises, a Duluth headquartered firm with interests in various businesses. He is the principal owner of the Duluth Holiday Inn Hotel and Suites Downtown Waterfront and the Holiday Inn Bozeman in Bozeman, Montana. Mr. Labovitz is also chairman of Lion Financial Corporation and Lion Hotel Group, both headquartered in Duluth.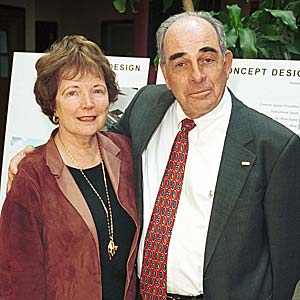 Soon after graduation from UMD in 1949, Labovitz joined his father Maurice at Maurices, a women's clothing store in Downtown Duluth. The two men expanded the local business through the 1960's and 1970's. When Joel Labovitz sold the company in 1978, Maurices had 175 stores in 18 states. He stayed on as President and Chief Executive for two years, adding another 100 stores before stepping down in January 1981.
A graduate Registered Nurse, Sharon Labovitz has been an active leader and philanthropist in numerous Duluth civic, educational and cultural organizations for many years. She is President of the Sharon and Joel Labovitz Charitable Foundation and has recently completed twelve years as a member of the Board of Directors of the College of St. Scholastica. She is currently a Board Member and former President of the Athenaeum, a Fine Arts and Music Library in La Jolla, California. Sharon is also a Member of the Board of the San Diego Museum of Art.
Joel Labovitz has been closely involved with the UMD School of Business and Economics for many years. He was named a "Senior Fellow" at the School and taught its very first courses in entrepreneurship. He was presented the "Business Leader of the Year" award in 1985 at the annual Student Business Banquet. In 1988 he received the UMD Distinguished Alumni Award and delivered the UMD Commencement address sharing the personal and business philosophy he's followed during his successful career. He has to spoken and taught at UMD both students and faculty on the topics of entrepreneurship, leadership and business ethics. In 2006, UMD celebrated the 14th anniversary of the Joel Labovitz Entrepreneurial Awards which provide recognition and encouragement to creators of small and large businesses in the area. Joel is a Member of the Board of the Timken Museum of Art in San Diego. He was runner-up in the Duluth City Marble Championship in 1940.