Communication Associate: Public Relations
| Lori Melton |
lmelton@d.umn.edu
| (218) 726-8830
---
February 10, 2006
Susan Beasy Latto, Director of UMD Public Relations 218 726-8830 slatto@d.umn.edu
William Henderson, Director, UMD Alworth Institute for International Studies 218 726-7753 whenders@d.umn.edu
For more information see: http://www.d.umn.edu/alworth/
UMD Names William Henderson
Director of Alworth Institute for International Studies
UMD has announced the appointment of Dr. William Henderson as Director of the Royal D. Alworth Jr. Institute for International Studies.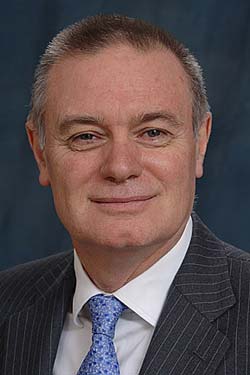 Willie Henderson has a Doctor of Philosophy in African Studies from the University of Sussex, UK. He has spent time living and working in Botswana, Ghana and Zimbabwe. Most recently he was Director of the Centre for Lifelong Learning at the University of Birmingham, UK.
He has published works on the political and economic development of Botswana, which he cites as sub-Saharan Africa's economic success story. He has also written on the subject of the intellectual history of economics and economic development. Dr. Henderson has published works on pioneering 19th century women economics educators (Maria Edgeworth, Jane Marcet, Harriet Martineau and Millicent Garrett Fawcett); on John Ruskin, Victorian socio-economic critic of Classical Economics; and on the history of Development Economics.
His next book, to be published by Routledge in April 2006, is on the developmental ideas of Adam Smith, a leading figure in the Scottish Enlightenment.
The Royal D. Alworth, Jr. Institute for International Studies was established at UMD in 1987 by the family of Royal D. Alworth, Jr. The objectives of the Alworth Institute include the promotion of knowledge and understanding of international issues by providing a variety of public lectures, forums and conferences. Because of the strong service commitment to the region by the Alworth Institute and UMD, the Institute is firmly pledged to sharing its resources and arranging opportunities for the local and regional populations to participate in the activities of the Institute.
Dr. Henderson says that "the role of the Alworth Institute is to create an academic and social space for the public discussion of a whole range of international issues currently under-reported in the media." Dr. Henderson hopes that the Alworth Institute will become "one of Minnesota's many windows on the wider world."