Ten (Past, Present and Newly-signed) UMD Women's Hockey Players
Named to Their Respective National Teams
UMD will have a very strong presence at the February 2006 XX Olympic Winter Games in Turino, Italy. A total of ten (present, past and newly-signed) players from the UMD Women's Hockey Teams will be skating for six different nations.
Current Bulldog members who have made their national teams are freshman Michaela Lanzl (German Olympic Team) and Mari Pehkonen (Finnish Olympic Team).
Lanzl, a rookie forward for UMD, is no stranger to Olympic competition. She was on the 2002 German Olympic Team at the age of 19. The Geretsreid, Germany native, is fourth on the NCAA charts for rookie scoring. So far during the 2005-2006 season she has complied 26 points (16-10 25) and leads the country with eight power-play goals.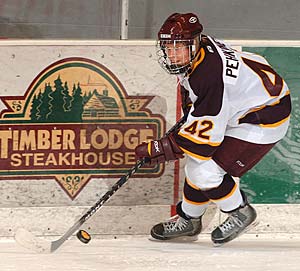 Pehkonen has played in all but one game for the UMD Bulldogs this season. The Tampere, Finland native, has garnered six goals and four assists for 10 total points, including one game winning goal for the Bulldogs.
Former Bulldog skaters who have earned 2006 Olympics spots are Jenny Potter (United States Olympic Team), Caroline Ouellette (Canadian Olympic Team), Patricia Sautter Elsmore (Swiss Olympic Team), Maria Rooth (Swedish Olympic Team), Erika Holst (Swedish Olympic Team), Satu Kiipeli (Finnish Olympic Team) and Nora Tallus (Finnish Olympic Team).
Potter, Rooth, and Holst will be making their third trip to the Winter Olympics, while Ouellette will be making her second. For the other players, it will be their first Olympic appearance.
Also making the Olympic Team is Saara Tuominen (Finnish Olympic Team), who signed with UMD earlier this season. Tuominen will join the UMD Bulldogs starting in the 2006-2007 season.
These ten UMD players join the ranks of former Bulldog teammates who have played in past Olympic Games. Former Olympic players include; Hanne Sikio (2002) and Tuula Puputti (1998, 2002) from Finland, and Kristina Petrovskaia (2002) from Russia.
The UMD Bulldogs will also be represented by Women's Hockey Team assistant coach Ira Turunen who will serve as Chief of Athlete Services at the Torino Esposizino Arena. Turunen will be responsible for overseeing a volunteer staff of assistant team equipment managers.