Communication Associate: Public Relations
| Lori Melton |
lmelton@d.umn.edu
| (218) 726-8830
---
December 18, 2006
Susan Beasy Latto, Director, UMD Public Relations slatto@d.umn.edu
Kjell Knudsen, Dean, Labovitz School of Business and Economics 218 726-7288 kknudsen@d.umn.edu
UMD Dean Kjell Knudsen Named
to Accreditation Committee of AACSB International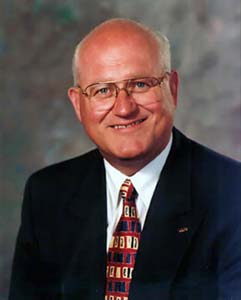 Kjell R. Knudsen, dean of the UMD Labovitz School of Business and Economics, has been named to the Initial Accreditation Committee of AACSB International--The Association to Advance Collegiate Schools of Business. Founded in 1916, the AACSB, which accredits 528 business schools in 30 nations, celebrates its 90th anniversary during the 2006-2007 academic year.
As a member of the Initial Accreditation Committee, Dean Knudsen helps to oversee the final stages of the process for institutions seeking initial accreditation with AACSB International.
AACSB International is the premier accrediting agency for bachelor's degree, master's degree, and doctoral degree programs in business administration and accounting. The association also is the business education community's professional development organization, conducting a wide array of conference and seminar programs at various locations around the world. AACSB International was founded in 1916 by a consortium of 16 business schools, including Tuck Business School at Dartmouth College, Harvard University (Harvard Business School), the University of Pennsylvania (Wharton School) and Northwestern University.
"We are fortunate to have Dean Knudsen as a member of our Initial Accreditation committee and look forward to his contributions in the coming year," said Jerry Trapnell, executive vice president and chief accreditation officer of AACSB International. "His expertise is most valuable to our association as we embark on another full year of accreditation activities."
The 2006-2007 AACSB International Initial Accreditation Committee:
Chair - Dixie L. Mills, dean, College of Business, Illinois State University (USA)
Vice Chair - David Saunders, dean, Queen's School of Business, Queen's University (Canada)
Frank Bostyn, dean, Universiteit Antwerpen Management School (Belgium)
Joseph L. Boyd, dean, Jesse H. Jones School of Business, Texas Southern University (USA)
Berkwood M. Farmer, dean, Raj Soin College of Business, Wright State University (USA)
Kjell R. Knudsen, dean, Labovitz School of Business and Economics, University of Minnesota Duluth (USA)
Terry S. Maness, dean, Hankamer School of Business, Baylor University (USA)
Xavier Mendoza, dean, ESADE Business School (Spain)
Donna T. Motilla, dean, School of Business, Christopher Newport University (USA)
Philip F. Rice, dean, Hickingbotham School of Business, Ouachita Baptist University (USA)
Martin Schader, School of Business Administration, Universitaet Mannheim (Germany)
Chair - Tim Brailsford, president, UQ Business School, University of Queensland (Australia)
Vice Ronald E. Schiffler, dean, College of Business Administration, Georgia Southern University (USA)
George E. Stevens, dean, College of Business Administration and Graduate School of Management, Kent State University (USA)