Communication Associate: Public Relations
| Lori Melton |
lmelton@d.umn.edu
| (218) 726-8830
---
December 5, 2006
Susan Beasy Latto, Director, UMD Public Relations (218) 726-8830 slatto@d.umn.edu
Vince Magnuson, Vice Chancellor, UMD Academic Administration (218) 726-7103 vcaa@d.umn.edu
Randall Gordon, Professor, Department of Psychology (218) 726-7961 rgordon1@d.umn.edu
UMD Chancellor's Award for Distinguished Research
for 2006-2007 Announced
Award Ceremony, Lecture and Reception Set for December 14
Randall Gordon, UMD Professor of Psychology, has been selected as the recipient of the Chancellor's Award for Distinguished Research for 2006-2007. This honor is given each year to recognize the research and scholarly contributions of a UMD faculty member and to provide opportunities to present developing research to a broad audience.
The award ceremony will be held on December 14 at 3:15 p.m. in the University of Minnesota Medical School Duluth, room 130. Following the ceremony Professor Gordon will present "Age Bias in Laboratory and Field Settings: A Meta-Analytic Investigation" for the annual distinguished research award lecture. A reception will follow the presentation in the UMD Griggs Center. The public is cordially invited.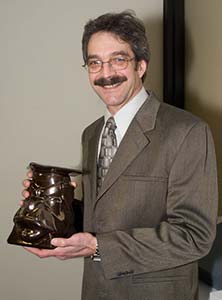 About Professor Gordon:
Professor Gordon's education includes a B.A. in Sociology (with honors) from York University, an M.S. in Counseling Psychology from Nova University,and an M.A. and a Ph.D. in Social Psychology from the University of Houston.
Professor Gordon's primary teaching and researching interests are in social and industrial/organizational psychology. He also teaches the research methods core sequence in psychology. His articles have appeared in such journals as the Journal of Personality and Social Psychology, Personality and Social Psychology Bulletin, Organizational Behavior and Human Decision Processes, Journal of Applied Social Psychology, Basic and Applied Social Psychology, Teaching of Psychology and Professional Psychology: Research and Practice. In addition, Mr. Gordon has authored over 30 articles that have been published in academic journals and over 60 papers presented at psychology conferences. Nearly 100 undergraduate students have appeared as co-authors on his published articles and presentations.
Professor Gordon serves as an Executive Editor for the Journal of Social Psychology. He recently finished a six-year term as an Executive Editor for the Journal of Psychology: Interdisciplinary and Applied and now serves as a review board member for the journal. He also reviews for a variety of social and industrial/organizational psychology journals on a regular basis.
Gordon, who currently works on a research project on optimism, has researched a relatively wide variety of topics. Those include studies on attitude-behavior consistency models and archiving research productivity in psychology. The majority of his work focuses on the issues related to prejudice, stereotyping, and discriminatory behavior.